Marital therapy, which is also known as marriage counseling, couple's counseling, couple's therapy, or relationship counseling, is a kind of therapy supporting those who are married and/or are in intimate relationships. This form of therapy might be helpful for couples who are currently seeking improved intimacy, understanding, resolving conflict, or are considering separation.
Many therapists offer marital therapy, though you need to make sure you find the right one that suits you and your partner's needs. If you are wondering, 'where can I find marital therapy near me?', read on!

Finding Marital Therapy Near Me
It can be a bit daunting trying to find a good therapist that offers marital therapy effective for you and your partner. Here are a few tips you can follow:
Specialized Training in Couple's Therapy or Marriage Counseling
You should choose a therapist, psychologist, or psychiatrist who is licensed in your area and with the training and supervision for couple's therapy. Not all therapists, psychologists, or counselors underwent this training. Also, not all therapists who provide marital therapy have supervision from certified therapists that ensure they apply the interventions and techniques that help in the clients' relationships.
You may find licensed therapists online from Psychology Today, Marriage Friendly Therapists, and the American Association of Marriage and Family Therapy.
Besides this, you should also choose therapists who can understand and align with the ways your relationship works without needing to teach your terminology. There are inclusive therapists in the US who have taken training on specific areas, including different sexualities, kink, and BDSM, gender identities and expressions, or nonmonogamy.
Another method to search for a good therapist is to ask for recommendations from trusted people, such as friends, doctors, or co-workers who went through something similar.
While therapy can be expensive, this helps in repairing and saving your marriage, which ends up being less expensive than divorce.
Besides this, look into the location of the therapist. They should be easily accessible and in a location that is convenient for you and your partner (if you don't live together).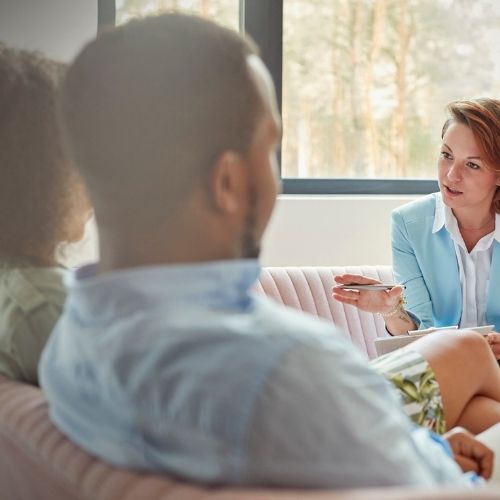 Interview Therapists
When you have a list of therapists you and your partner can work with, the next thing to find out is if they are a good fit for you and vice versa. You may interview therapists on the first session or via phone. This can also help you see if the therapist you will choose won't take sides and show compassion to both of you, being able to maintain control of every session and have the right personality for your needs
Here are a few questions you may ask them to get a better understanding of how they work and if you are comfortable with them:
Do you have formal experience, education or training in couple's therapy?
How many couples do you work with and what percentage of them have experienced improvement because of the therapy?
What do I expect when working with you? You can ask about the structure and length of sessions, the assessment process, how treatment plans are decided, and more.
If you are looking for help regarding sensitive topics like nonmonogamy, ask your therapist for their viewpoints on particular topics and their expertise on them.
You can also ask about their views on relationships and divorce.
Any married couple who has a history together can benefit from marital therapy. It all boils down to being able to work together and to find a licensed and trained therapist that communicates well, providing an excellent treatment plan. While it will take time and effort researching for a marital therapist, and even longer to find improvements in every session, it will all be worth it!
If you are in Florida or California, reach out to us at NowPsych for more information on therapy options