Developing good handwriting is an important skill for every child to learn. For some kids, this comes naturally, while others seem to struggle. Instead of assuming your child has poor penmanship, handwriting practice can help you see significant results.
To see improvements, many people assume that "practice makes perfect" by supplying their child with endless worksheets. In reality, you have to get to the root of the problem. If you notice your child is prone to fatigue or lacks appropriate dexterity to complete writing tasks, he or she may need to work on fine motor skills. If handwriting is illegible because your child struggles to hold a pencil correctly, you can provide the right tools to help. With these handwriting practice activities, you can set your child up for success:
Handwriting Practice To Build Fine Motor Skills
ABCaptain Counting Animal Matching Game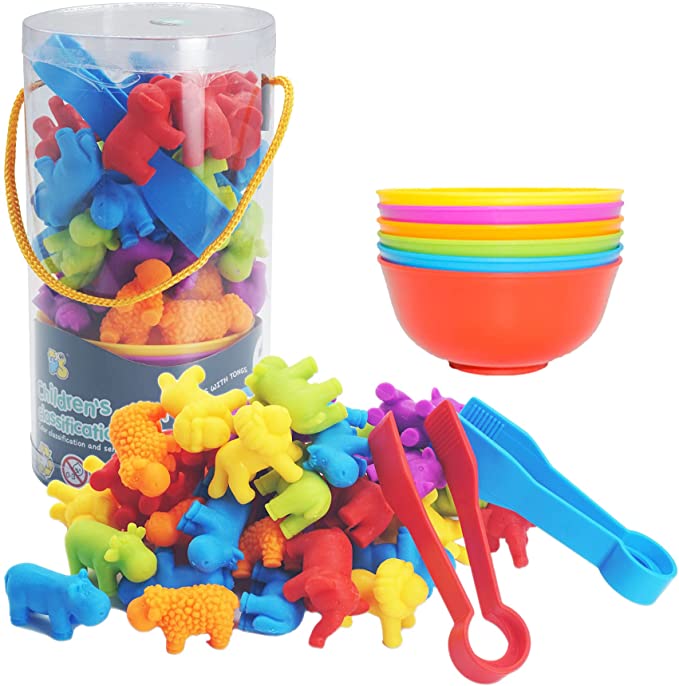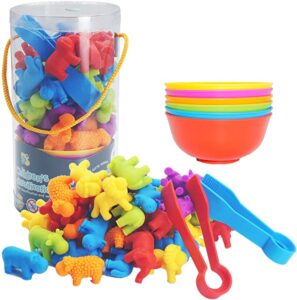 Strong fine motor skills are an important building block to developing good handwriting. This sorting game is a great way to help preschoolers strengthen hand muscles and develop hand eye coordination. Using tongs, children will sort a variety of animals into bowls by color. This set includes:
2 sets of kid-friendly tongs
36 sorting animals, 6 in each color of the rainbow
6 color coordinated cups to place the animals into
1 container for storage
Fine Motor Activities For Older Kids
The best way to build fine motor skills in older children is with activities focused on grip and pinching. The more your child practices using his or her hands in targeted ways, muscle and hand eye coordination will improve. In time, this will boost handwriting skills as they develop form and experience less fatigue. Some simple at home activities you can try are:
Using a screwdriver
Knitting
Kneading bread dough
Pinching modeling clay into balls
Putting money into a piggy bank
Handwriting Practice To Improve Your Child's Form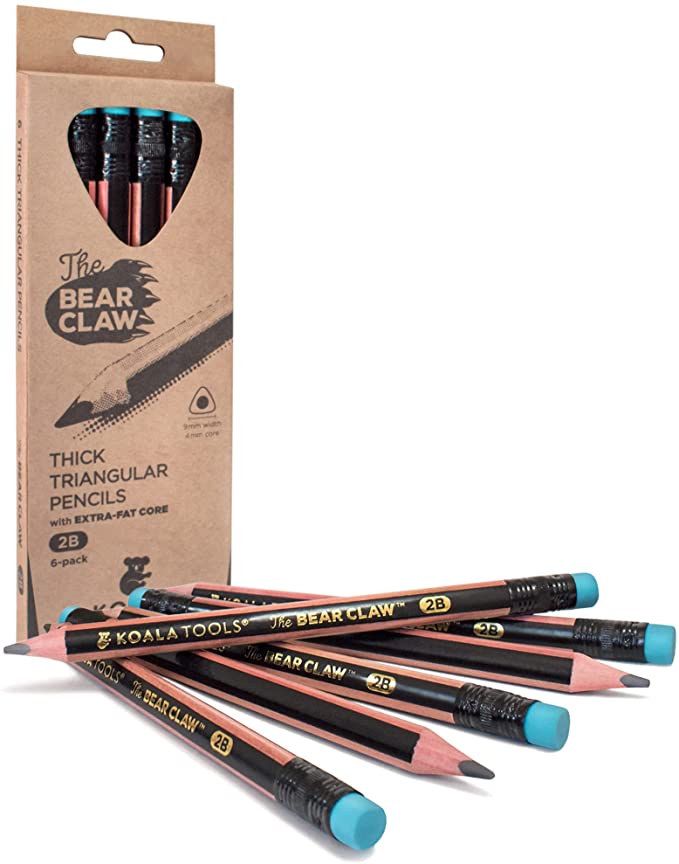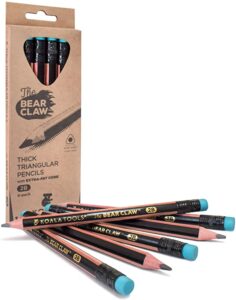 Some children struggle to grip standard sized pencils simply because they are too small. By introducing pencils with a larger diameter, little hands don't have to work as hard to gain control. They are free to focus on what they are writing instead. Koala Tools' Bear Claw pencils are designed with a thick, triangular shaped body making them easier to grasp. In each set, you will receive:
6 pencils with a 9 mm thickness
Each pencil is made of natural wood with a 4 mm thick 2B graphite center
Pencils are also topped with an eraser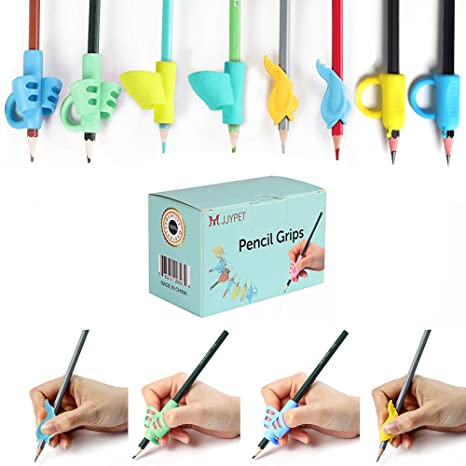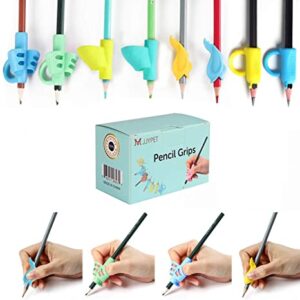 Pencil grips are a great tool for children who experience fatigue or struggle to hold a pencil correctly. There is no one size fits all approach to correcting form. Since all children face unique challenges, this set of pencil grips comes with four varieties of corrections to choose from. You can try each individual style to determine the one that best suits your child's needs. You can expect from your pencil grips:
Two sets of four pencil grips–one set for the right hand, one set for the left hand.
Product made of high quality, non-toxic silicone
A simple way to give your child comfort as he or she learns proper technique and gains confidence in handwriting
Handwriting Practice That's Fun
101 Jokes: Handwriting Practice Book by Sujatha Lalgudi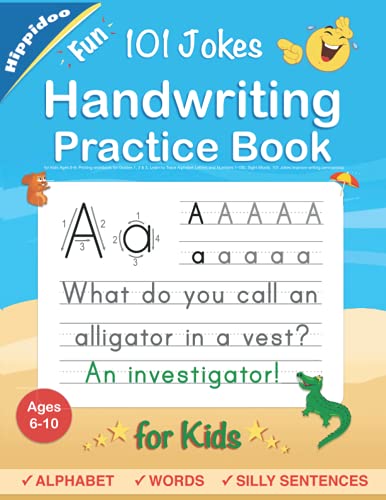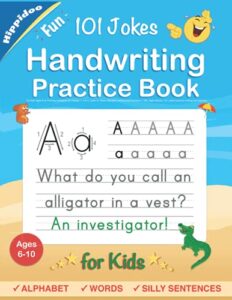 At some point, your child will have to practice writing to improve their skill. Why not make it fun? By giving them useful tools that don't feel like work, you'll see them get excited about the improvements they make. With this book, your child will:
Learn to write uppercase and lowercase letters A-Z
Learn number formation 1-100
Learn to write sentences in the form of kid-friendly jokes.
Play Word Games
Practicing letter formation is incredibly important, but sometimes kids need a break. To practice handwriting skills without wearing your kid out, there are plenty of games you can play that are fun and spark creativity. Try activities like:
Crossword puzzles that keep letter formation within individual squares
Word scrambles that place letters on individual lines
Learning and writing in "coded" messages
Handwriting Practice In Cursive
The Cursive Handwriting Workbook for Kids from Modern Kid Press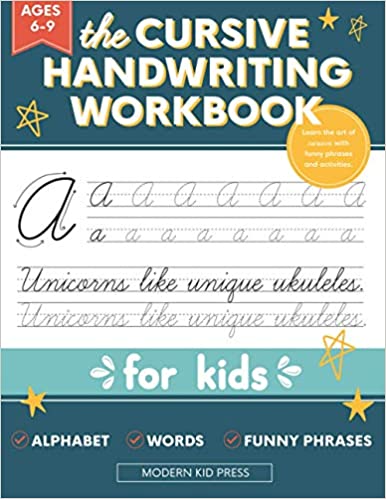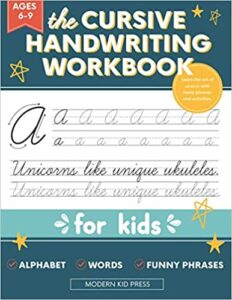 Learning cursive has enormous benefits, including improving penmanship. With this workbook, children will learn cursive in a fun and engaging way. You will see problems with letter formation, spacing, and alignment self correct as your child masters a new skill. The Cursive Handwriting Workbook for Kids guides your child through cursive by:
Teaching cursive upper and lower case letters
Practicing word formation
Practicing sentence formation
Giving kids a chance to practice their skills with writing prompts
Cursive Handwriting Workbook for Teens by Leslie Mars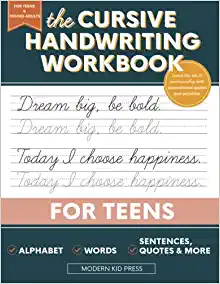 If you are teaching your teen cursive, he or she may enjoy learning from a book with a little more inspiration. Leslie Mars's Cursive Handwriting Workbook for Teens teaches cursive by introducing quotes from prominent leaders, artists, and philosophers throughout history. As kids move through the book, they will:
Learn all uppercase and lowercase cursive letters
Rewrite inspirational quotes from people such as Leonardo da Vinci, Abraham Lincoln, Queen Victoria, Socrates, and more
Handwriting Practice Bonus: Recognize Signs Of Fatigue
Take Frequent Breaks
Learning a new skill or improving an existing one takes time and patience. Kids can also get easily tired as they try to adjust to these new changes. If you notice signs of frustration and fatigue, let them know it's time for a break before you experience a full emotional meltdown. To keep your child calm and focused during breaks, try:
Aerobic activities
Simple yoga stretches
Deep breathing exercises
Taking walks in nature
The best thing you can do for a child learning to improve handwriting is to be patient and have fun! It's important to establish a solid foundation from the beginning. In doing so, your child will be well on their way to developing a necessary skill. They are learning to write legibly, express themselves, and present themselves with integrity.