Can Toys Help with Baby Development?
As a child psychiatrist, part of my education and training is in infant and child development. When it comes to baby development, there are many factors that can help a baby develop optimally. Some of these things include their environment and the things they interact with, the way people interact with them, and the opportunities they have to explore and learn.
Toys play a critical role in a baby's development by providing sensory stimulation and promoting motor, cognitive, and social-emotional development. For example, toys with different textures, shapes, and colors can provide sensory stimulation, which can promote brain development and help babies learn about their environment. As babies begin to reach, grasp, and manipulate toys, they develop their fine and gross motor skills, hand-eye coordination, and depth perception. Toys that encourage problem-solving, such as shape sorters or stacking toys, can help babies develop their cognitive skills and spatial awareness.
In addition to promoting physical and cognitive development, toys can also support social-emotional development. For example, toys that encourage social interaction, such as baby dolls or toy animals, can help babies develop their empathy and social skills. As babies begin to imitate adults and engage in pretend play, they develop their creativity and imagination, as well as their emotional regulation.
Here are some great toys for baby development that I highly recommend:
25. Baby Sensory and Fidget Toy
This toy has multiple functions and is made of food-grade silicone for teething. It has toggles that make sounds and move in different ways to allow babies to feel vibrations and learn to manipulate the various toys and poppers.
This toy allows babies to turn pages and select activities like music, vocabulary, nursery rhymes and more.
This battery-operated puppy plays interactive games with baby like teaching words, teaching body parts, counting, and the alphabet.
We all know how much babies love to pull things out of boxes and packaging. This soft toy simulates a tissue box but it can be refilled unlimited times for plenty of fun.
This fun crab crawls in different directions to encourage baby to follow after it. This helps with both crawling development as well as eye tracking development, hand-eye coordination and general motor skills like reaching.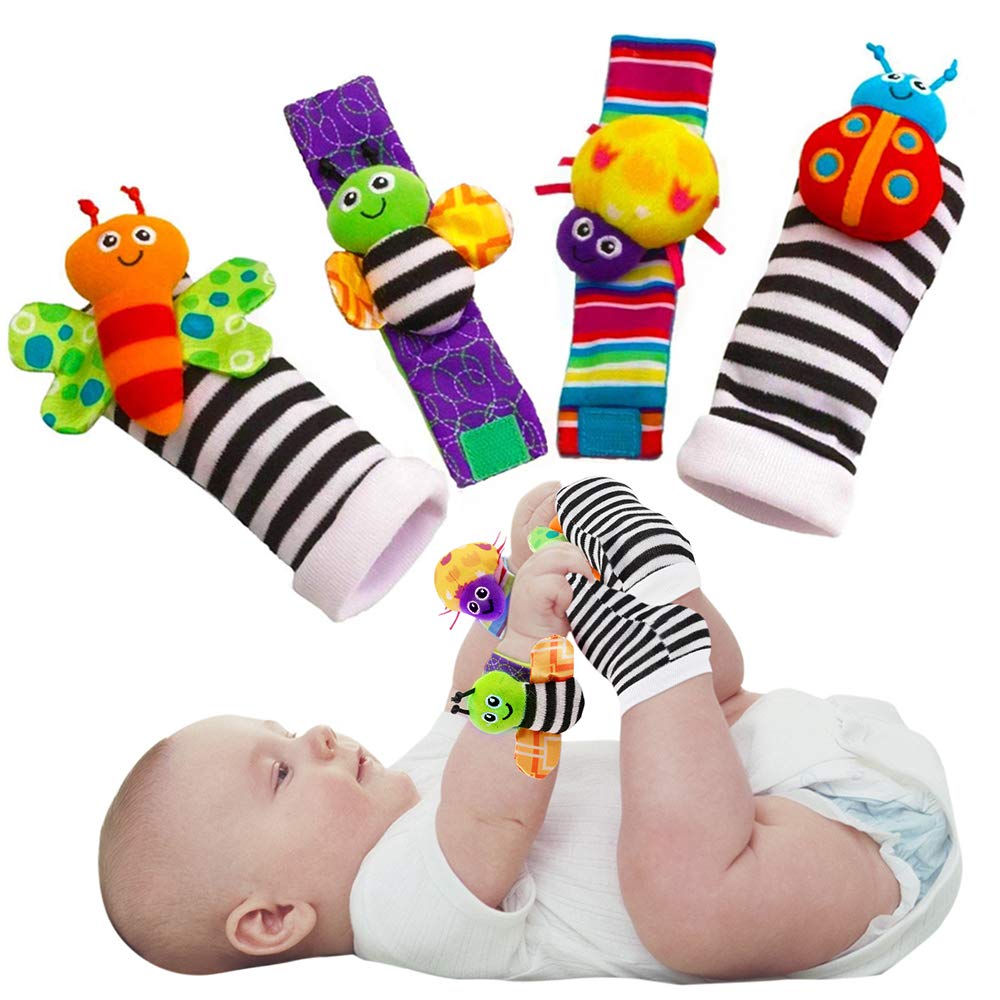 These rattles help babies learn how each arm and leg moves. Great for motor development.
19. Baby Musical Instrument Set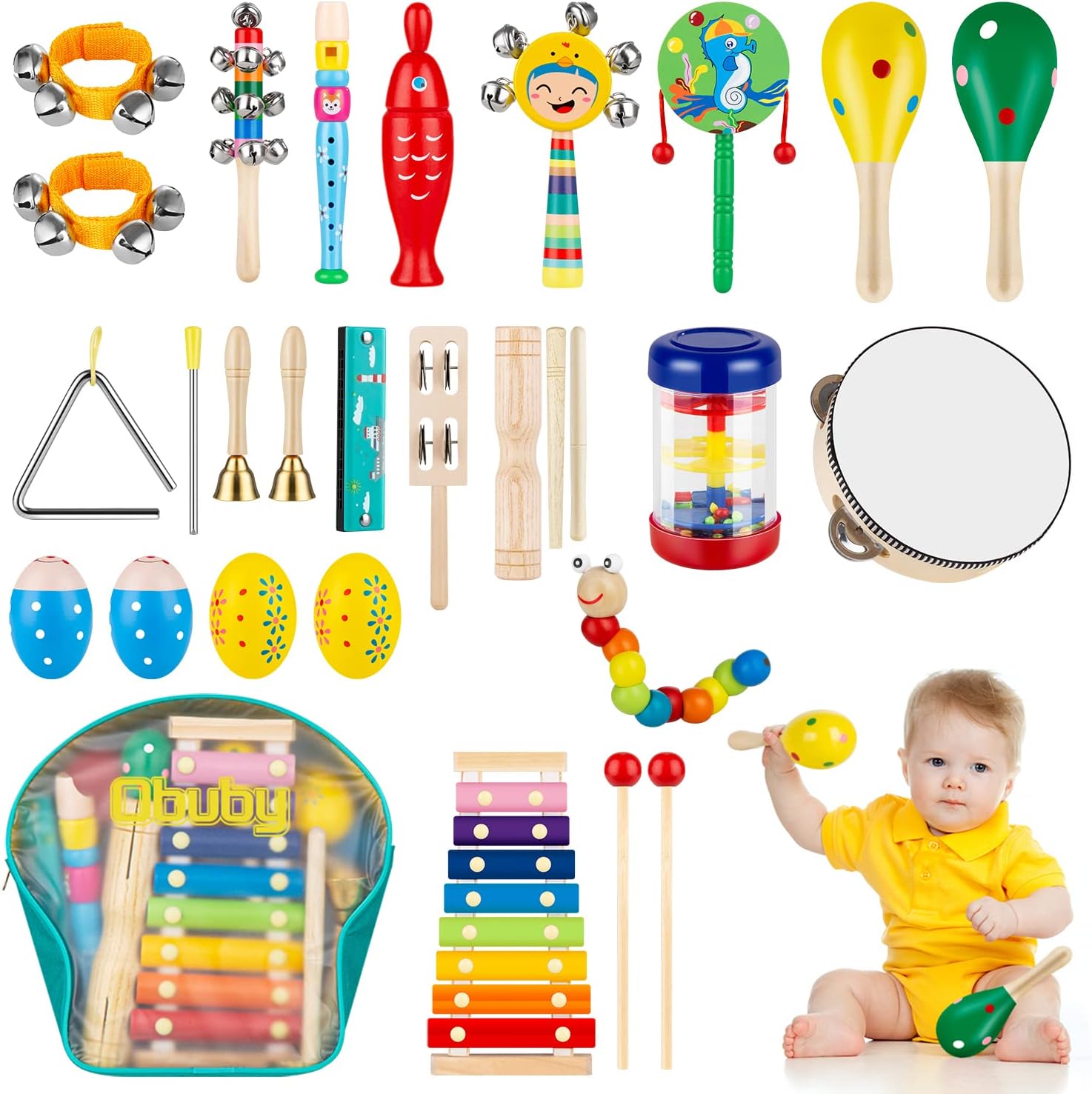 Music is great for both motor and brain development.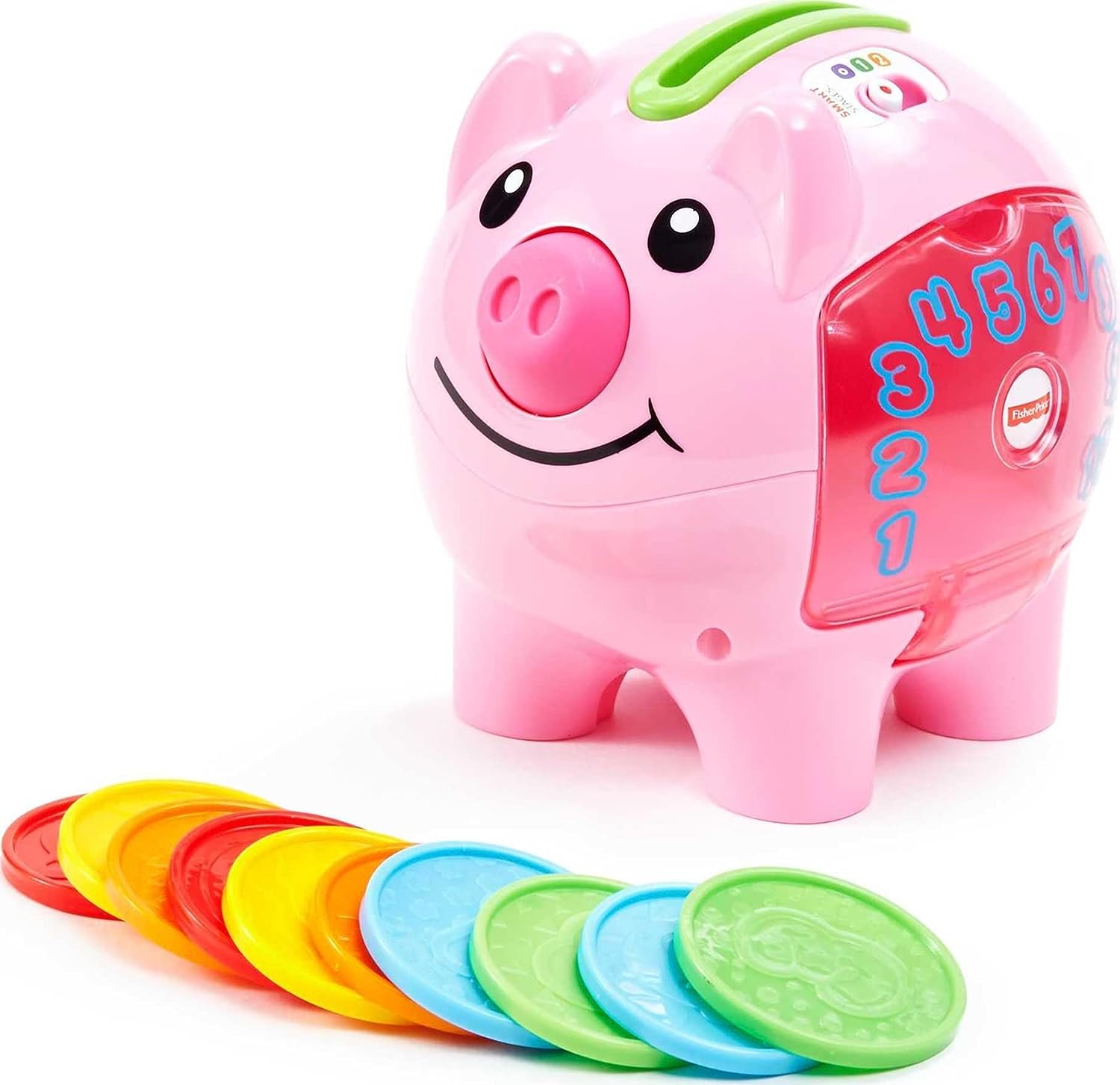 This piggy bank helps babies learn to count and also plays songs and teaches colors.
17. Black and White Stimulating Mobile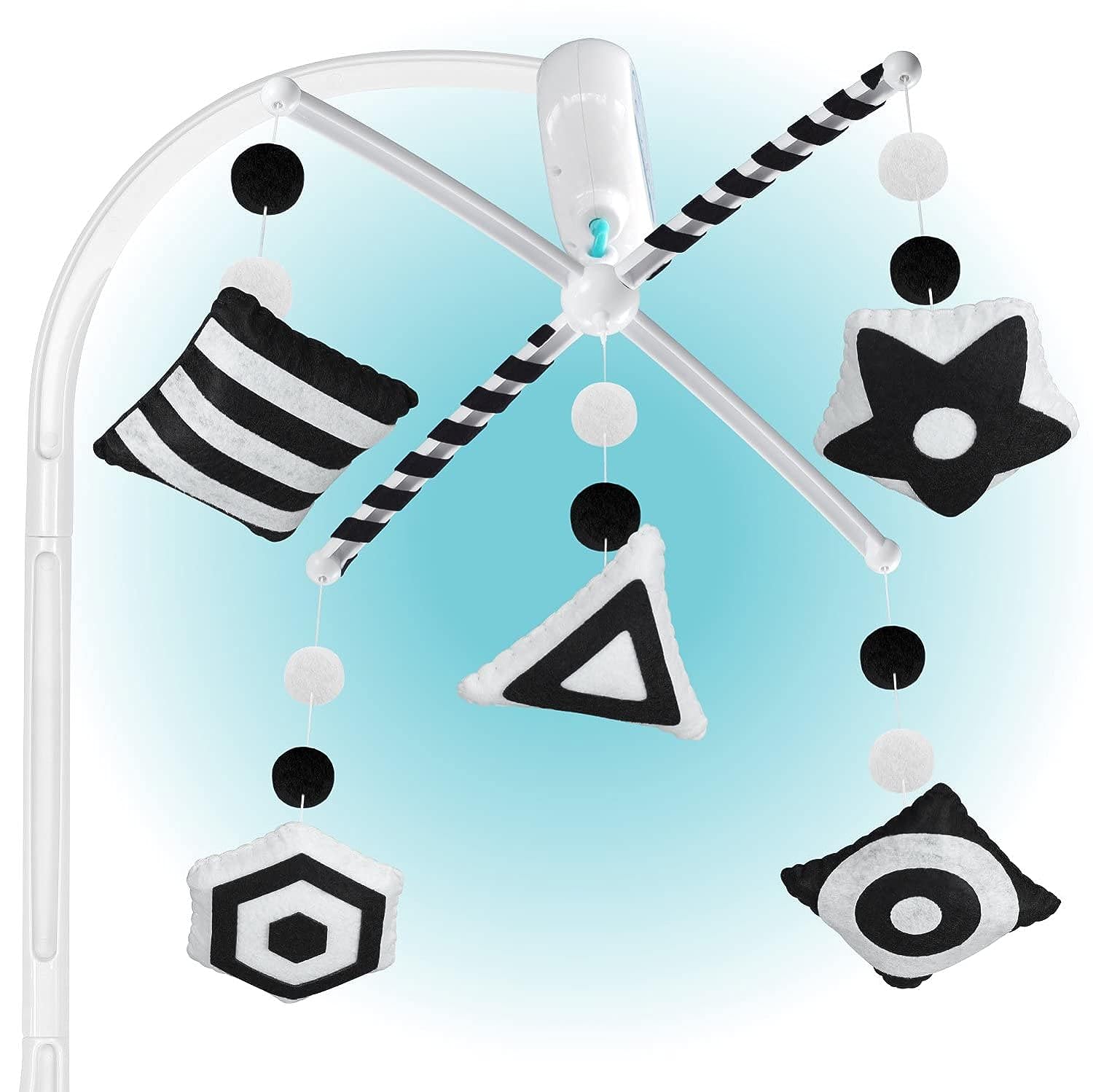 This baby mobile uses strong contrast to stimulate a baby's brain and can be more easily seen by young babies eyes.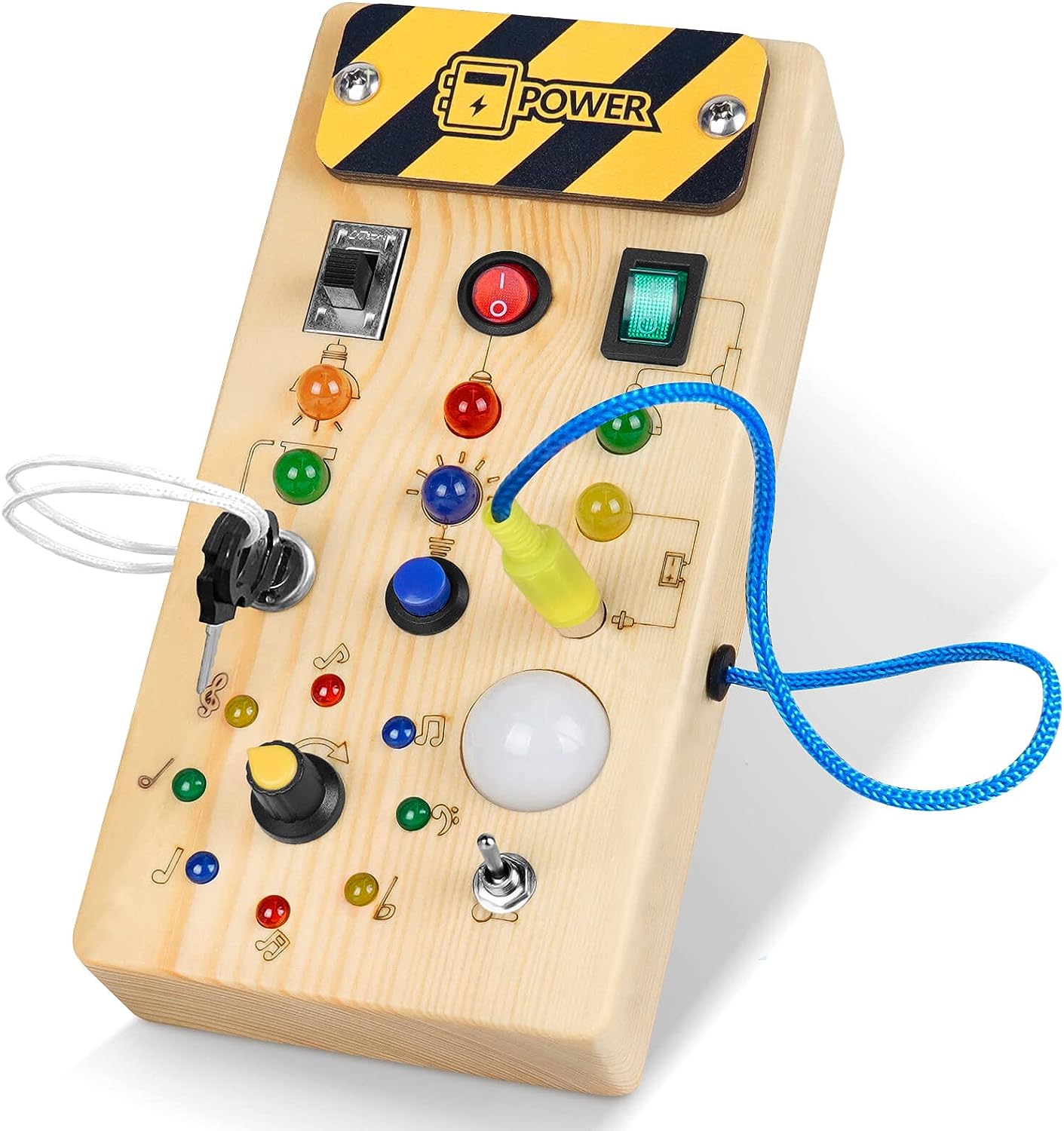 This busy board is great for older babies who are ready to start doing more fine motor skills like plugging and turning keys.
This baby book is black and white with high contrast colors throughout it for mental stimulation for your little one. There are interactive sections of these soft, fabric-like flaps that your baby can lift or turn. It's recommended for children ages 6-12 months.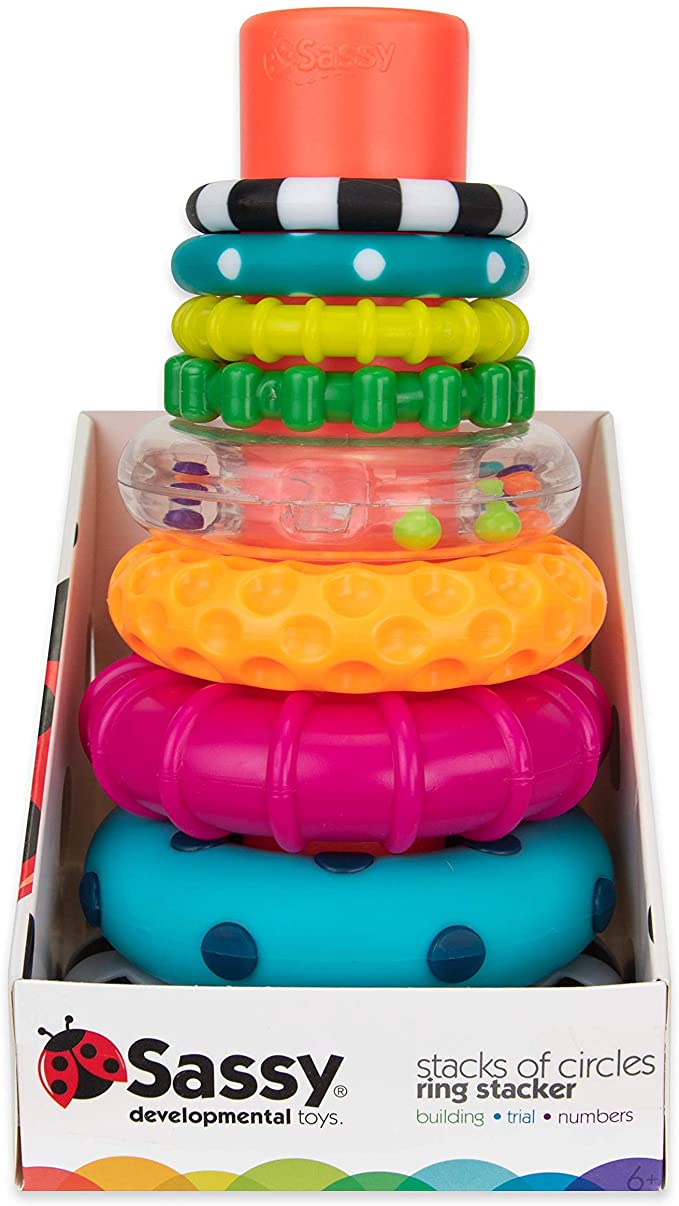 With this 9-piece stacking set, your child will stay busy for a while. The rings are all different sizes, colors, and textures. Your child can use the stacking post or simply stack the rings on top of each other. It also includes a mirror for your little one to see themselves and start to recognize their reflection. It's recommended for children ages 6-24 months and can even be used as a teething toy!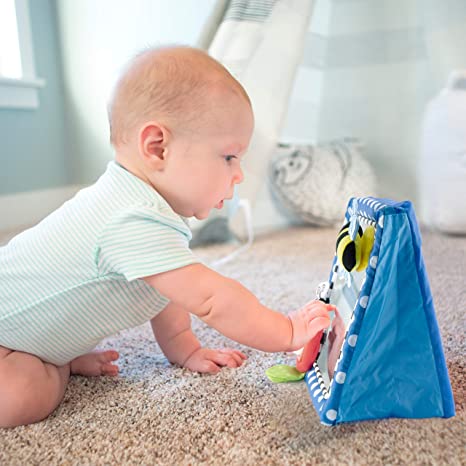 If you have a baby, chances are they enjoy spending a lot of time on their tummy. This toy has a cute little bee and ladybug along with a large mirror in the middle that your little one can see themselves in. The bee rotates and clicks to attract your baby's attention.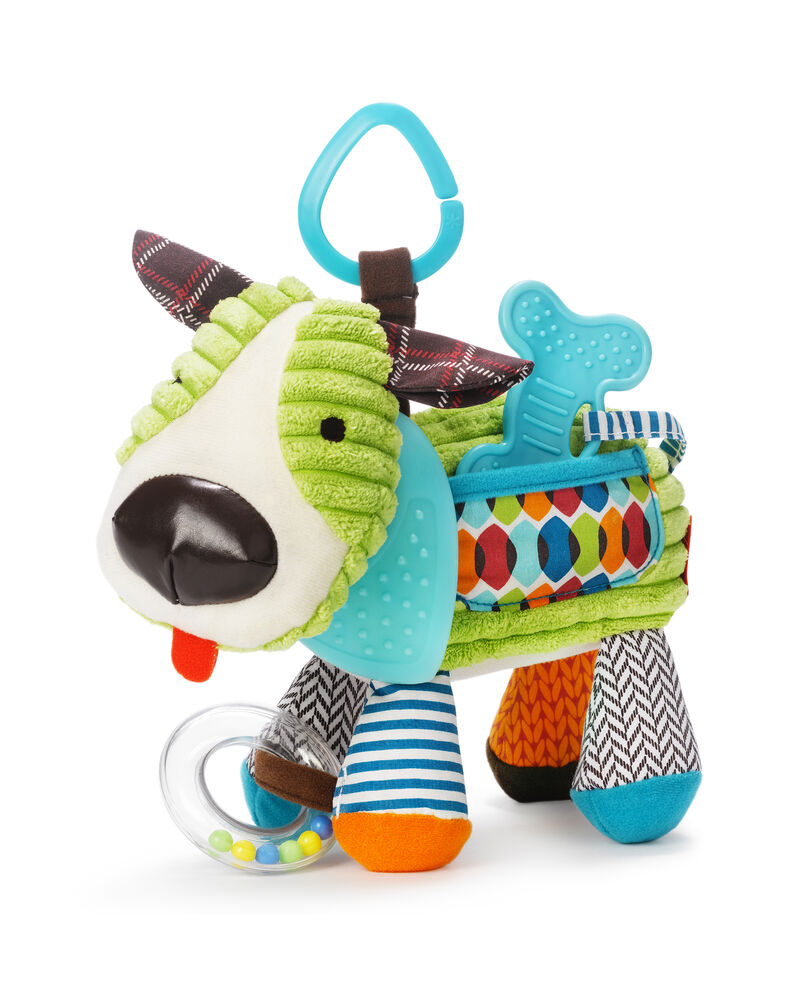 This is such a cute kid's toy! It's shaped like a puppy and has all sorts of textures, patterns, and colors. It has a ring that allows it to be attached to a bag or car seat. Additionally, it comes with a detachable teething toy shaped like a bone and a bandana. It's very durable and can withstand even the most ambitious of teethers.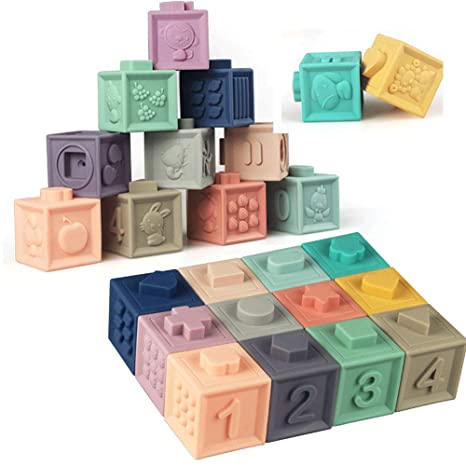 These are adorable neutral stacking blocks that also float in the bathtub. On the sides of the blocks are numbers, interactive patterns, mix and match sides, and more. They also squeak, so this toy will definitely aid in development through touch and sound.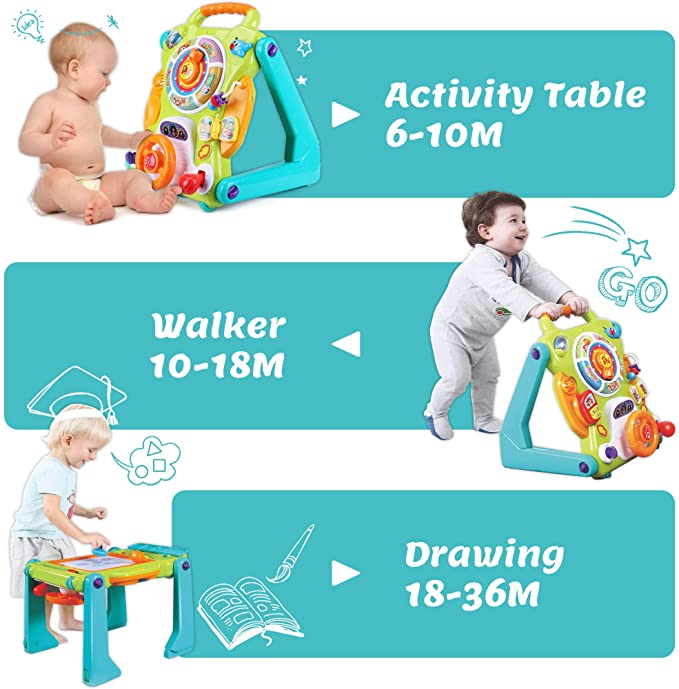 Your child can have hours of endless fun with this musical baby walker. It has so many pieces to it including a sketch board, buttons and knobs to turn and make noise, an activity table, and more! The walker is built so that it prevents bowing of the legs and helps with fine motor skills and developing problem-solving skills.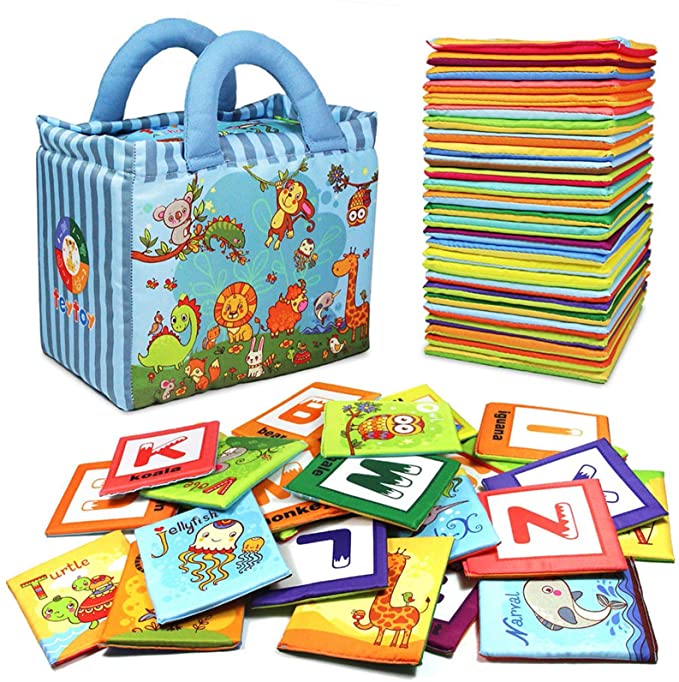 Not only will you get 26 fabric alphabet cards, but also a cute little cloth bag with animals on it for your child to carry them around the house. The alphabet cards include both letters and animals that start with the respective letter. They are appropriately called "zoo cards" and will make learning even more fun.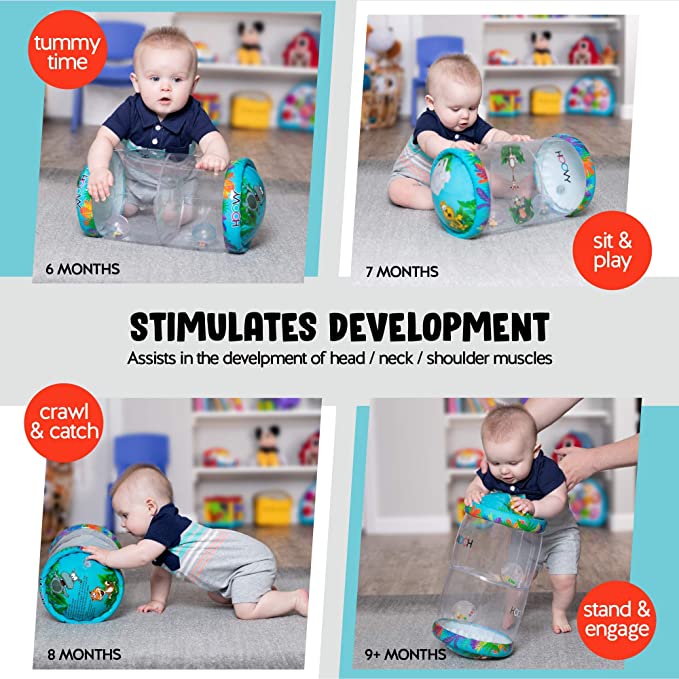 It can be incredibly difficult to keep an eye on your baby or distract them once they learn to crawl. That's why this crawling roller toy for babies is so helpful. It's an inflatable toy that has colorful balls inside that move and drop to stimulate your child's senses. They can push it or stand up and roll it, and that will help develop their muscles and coordination.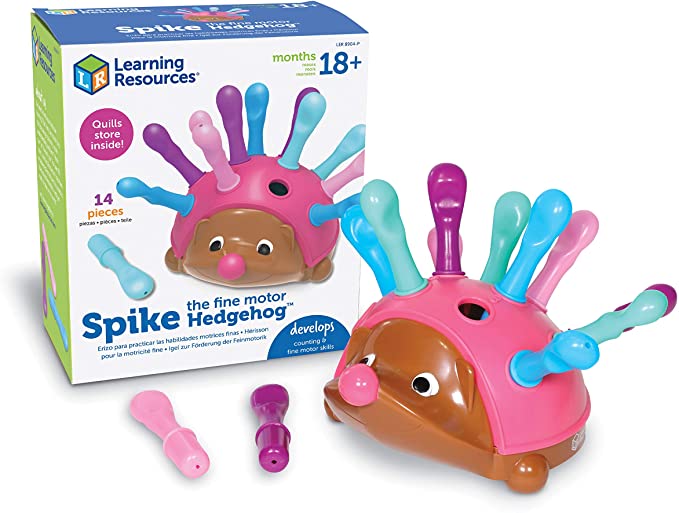 Not only is this a very cute hedgehog toy, but it's also wonderful for engaging your child's problem-solving skills. They will have fun putting the multi-colored spikes in the hedgehog's back. This toy could even be used for physical therapy for your little one. It's recommended for children starting at 18 months and up.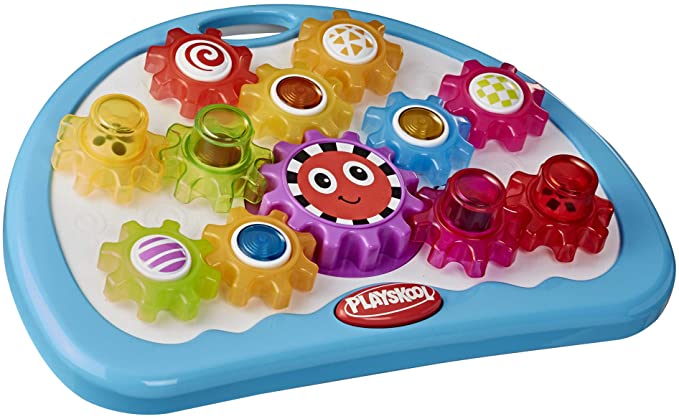 This toy will definitely keep your child busy. It's made up of very colorful interchangeable gears of all sizes. There are eleven gears included and they turn just like real gears do. This Playskool toy also lights up and plays music so it will incorporate a variety of your child's senses like sight, sound, and touch.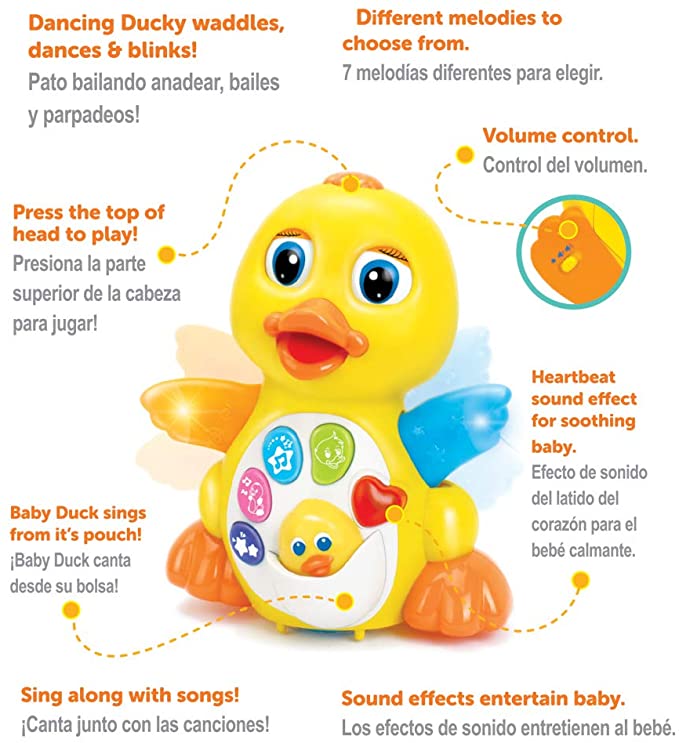 This toy is for those kiddos who can't stop dancing and singing. It's an adorable yellow ducky that dances and waddles while playing music and lighting up with LED lights. On the front of the ducky are five buttons that your child can play different songs and more. As an added bonus, the ducky has a little baby duck in its pouch that sings too!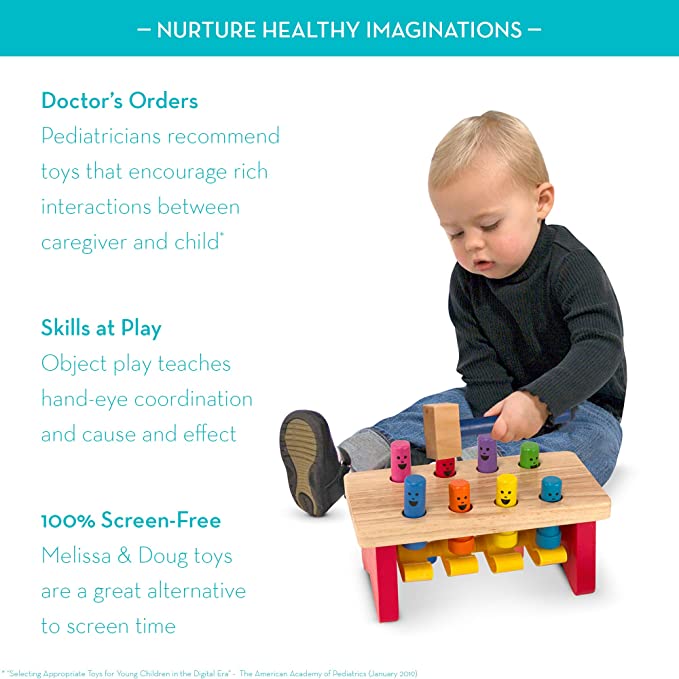 We've all played the game "Whac-a-mole" at an arcade where you use a mallet to whack the moles as they pop up, and this children's game is similar. Little colorful pegs poke through a wooden bench and can be moved up and down for your child to "whack" with the wooden mallet included. It's recommended for children 2-4 years of age.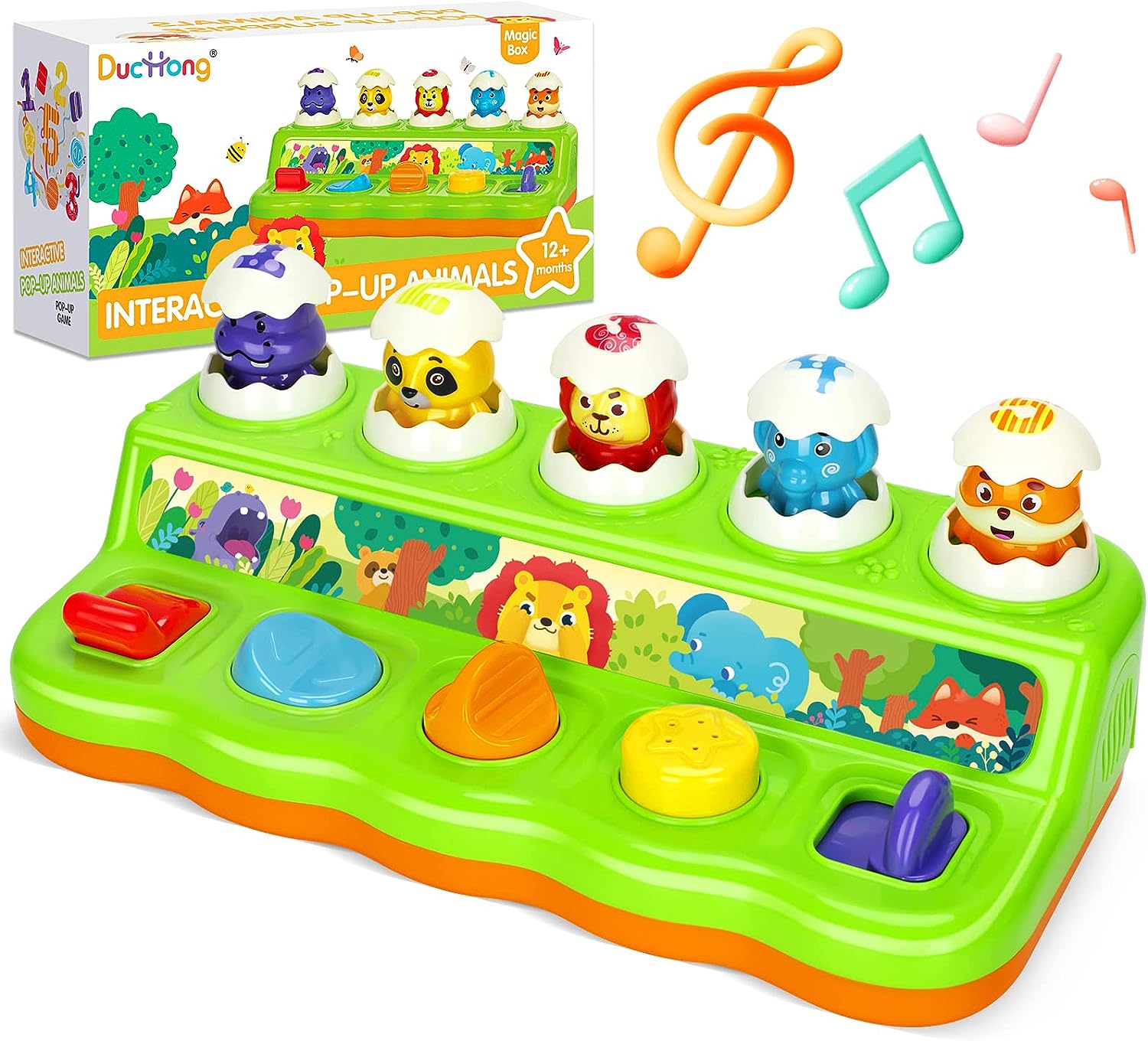 Babies and toddlers can learn to push, pull, twist and more fine motor skills with this fun toy.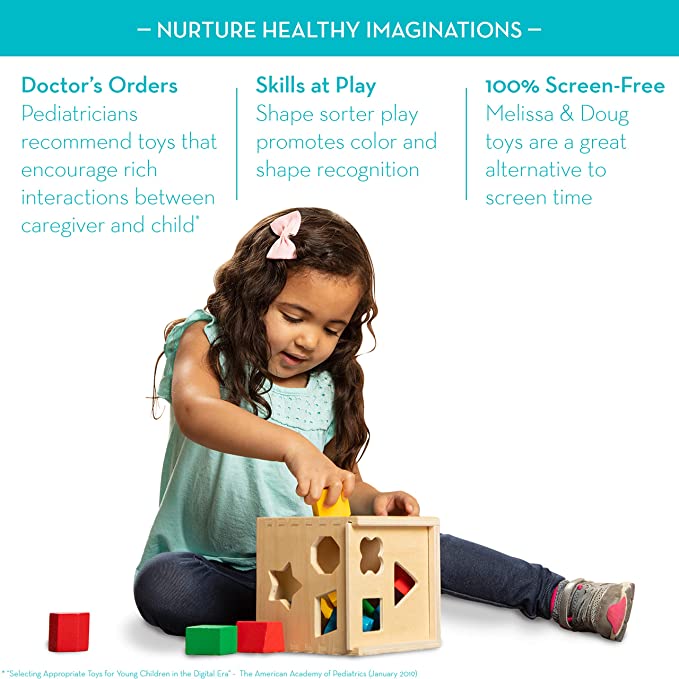 This wooden box toy with colored shapes is a classic favorite. It's simple but very fun and distracting. This toy helps your child to identify different shapes and work on their problem-solving skills by locating which hole the shape is meant to fit through.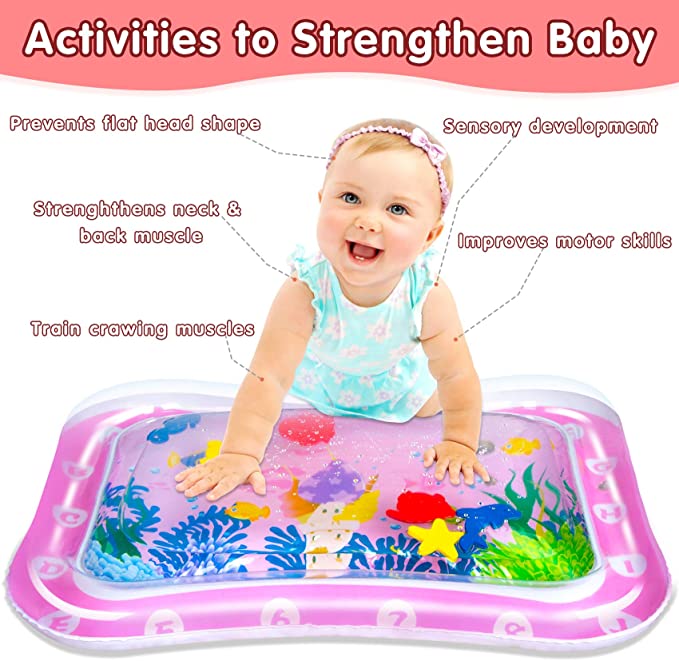 One of the reasons this tummy time mat is so amazing is because it captures your attention, but it's also so interactive. During the winter you can blow it up with air, but in the summer, you can fill it with water for your little one to cool down while playing outside. Additionally, it comes with cute 3D ocean toys that float.