Math Games Kids Love
Math can be a challenge for many kids, and in particular they may not find it fun. A great way to encourage math skills and even a love for math is to play games that integrate numbers and mathematics into play. Here are a few great cool math games you can play with your kids.
15. CozyBomB Monkey Balance Counting Cool Math Games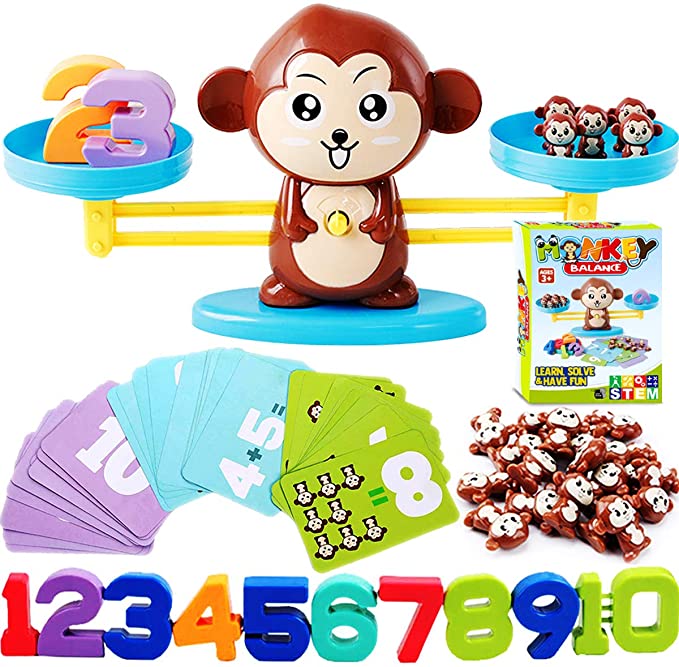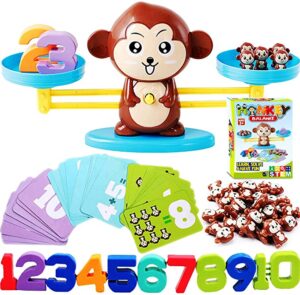 This 65-piece-set math game incorporates adorable monkeys that your little one will utilize to learn all about counting and addition. There are three different levels to this game so you can switch it up to keep their attention. This interactive game will provide hours of endless fun.
14. Proof! Math Game – The Fast-Paced Game of Mental Math Magic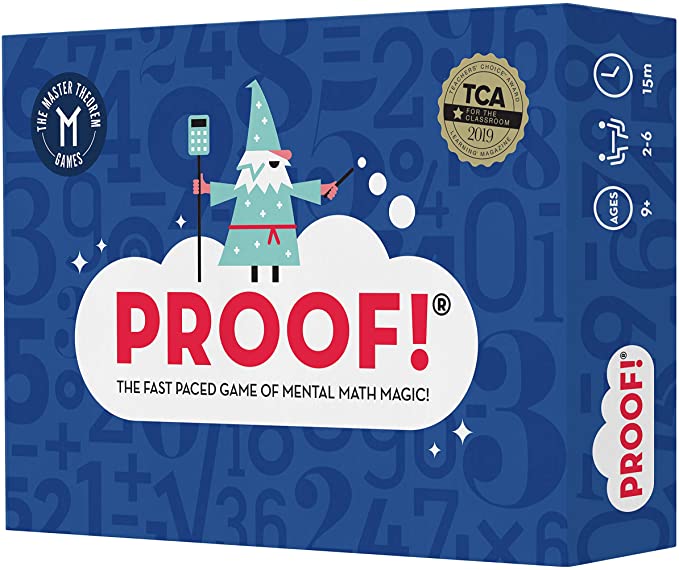 This math game is great for practicing subtraction, addition, multiplication, and division. It includes 100 cards with numbers for your child to come up with an equation as fast as possible. Proof! is a mentally stimulating game recommended for kids ages 9 years old and up.
13. Miss Brain's Cool Math Games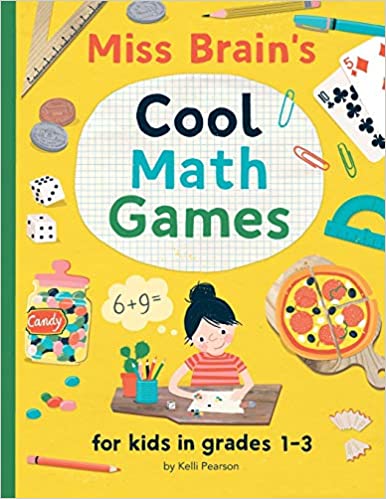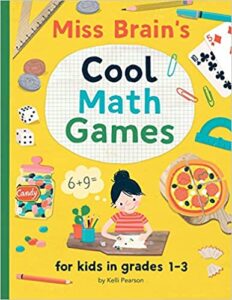 Miss Brain's Cool Math Games for Kids is a book of over 30 activities for your child to complete. They can start on the first page and work through the book, or randomly flip to a page and play the game listed. There are card, coin, dice games, and more! It's recommended for children in grades 1-3 and you can play the games with your child too.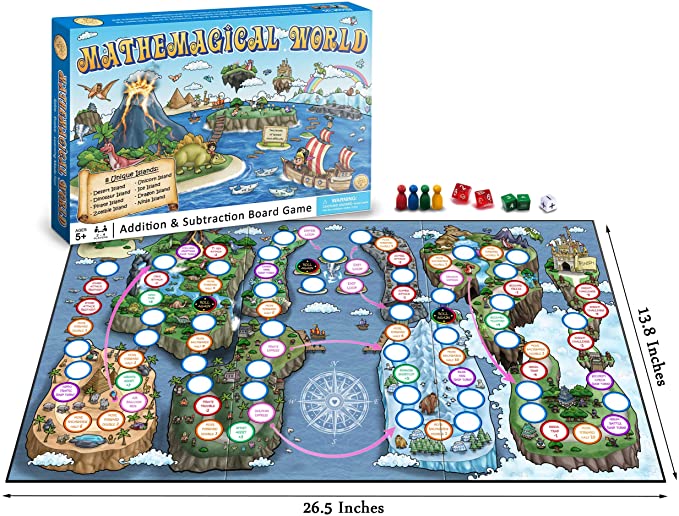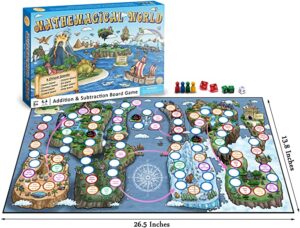 This is a math board game that your child is sure to love. In this "Mathemagical" game, your child will be able to explore fun islands like Dinosaur Island, Unicorn Island, Dragon Island, Ninja Island, and more! It's a typical board game with dice and moving pieces, but it will also teach your little one about vital math skills like addition and subtraction.
11. Learning Resources Snap It Up!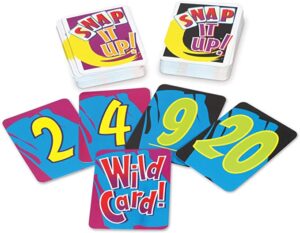 Snap It Up! is a fast-paced card game that puts your math skills to the test. The goal is to do addition and subtraction as fast as possible and pass the cards along. This is a great game for those kiddos who have the basics down but want an extra challenge or a fun way to improve their math skills. It's recommended for children 6 years old and up.
10. Scholastic 30 More Math Mysteries Kids Can't Resist!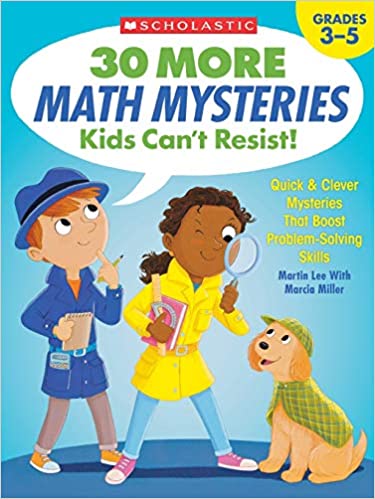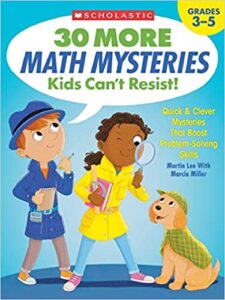 We all love a great mystery, and your child will likely find this game very intriguing. Each page will display a story to be solved using mathematics. The staple characters in the book are kid detectives named Zara and Mendel and they have an adorable pup for a sidekick named Digit. This game is recommended for children in grades 3-5.
9. Sums in Space an Addition Subtraction Math Game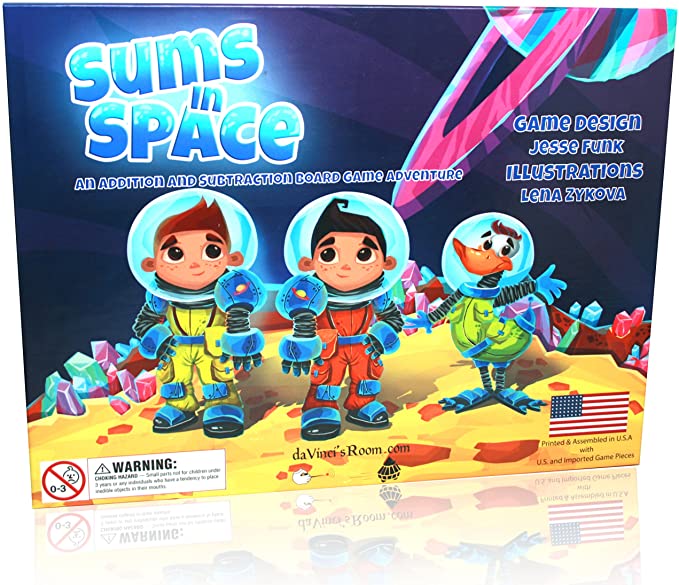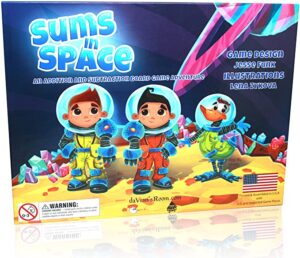 Sums in Space is an adventurous math game with the option to play in teams so that your child not only practices basic mathematics but also learns how to work well with a team. This is a very detailed and well-illustrated game that will spark imagination and inspiration.
8. PlaySmart Dice: Uniquely Numbered Dice System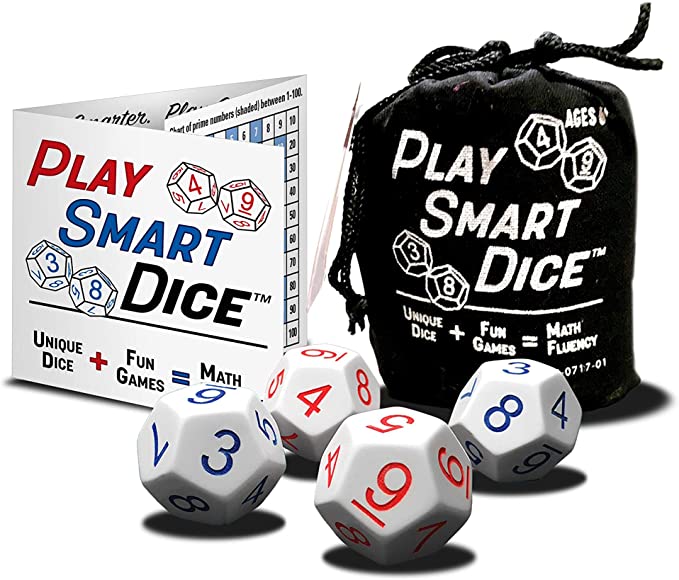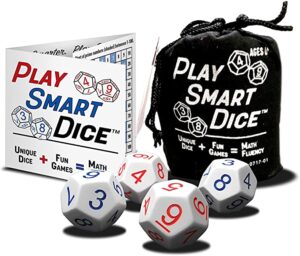 This is a classic numbered dice game that is a nice break from practicing with typical flashcards. You can take them on the go and play when there is downtime, or help your child practice their math skills at home daily. With this game, your little one can work on mastering subtraction, addition, and multiplication.
7. ROBUD Wooden Multiplication & Math Table Board Game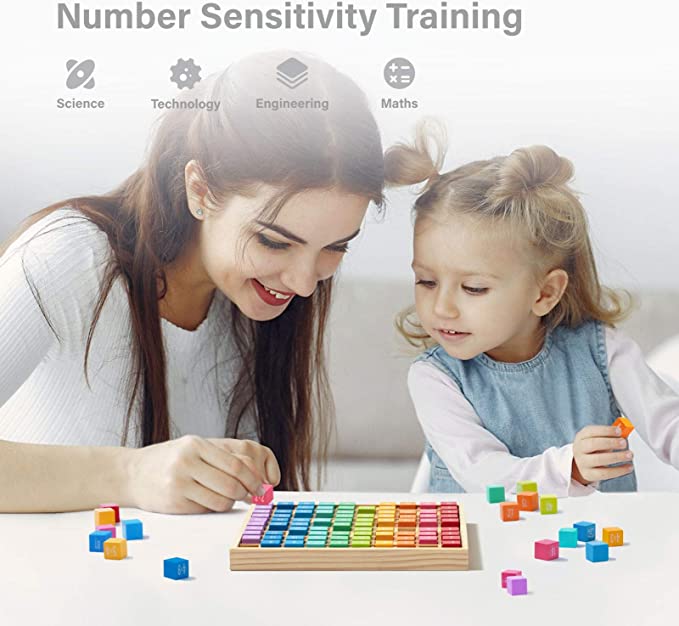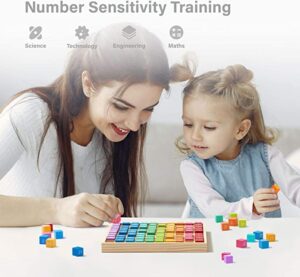 This is a beautiful, colorful, and high-quality wooden table board game. So, not only does it help with math skills, but also with recognizing color as well. The base of the board has the arithmetic, and the goal is to match the answer by putting the colored block in the right spot. It's recommended for kids ages 3 years old and up.
6. 173 Pcs Multiplication Flash Cards, Kids Math Learning Flashcards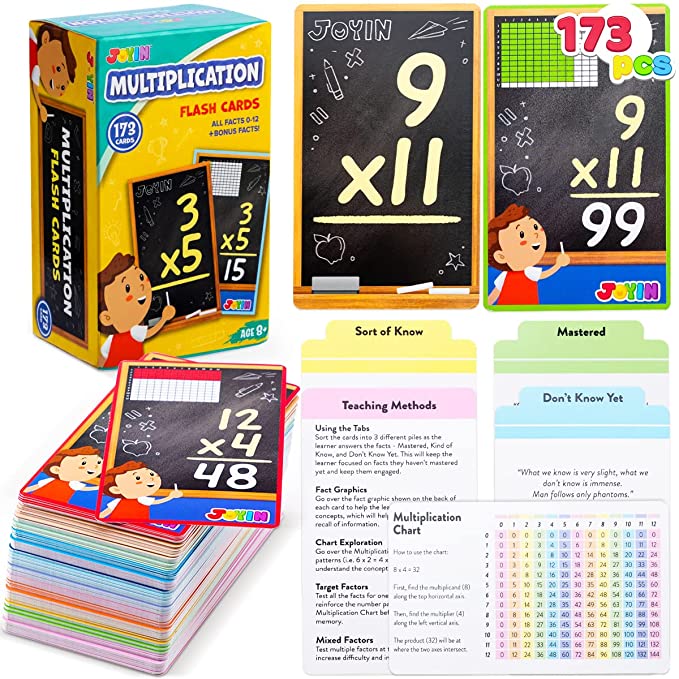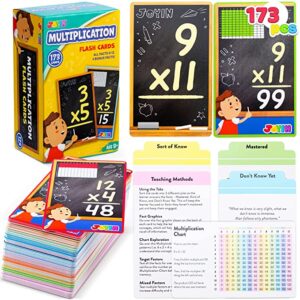 This game is a new take on classic math flash cards. This set of 173 cards is color-coded and has fun chalkboard doodles on the cards to make them even more fun. Your kiddo can organize each card by tabs that say, "sort of know," "don't know yet," or "mastered." It's recommended for children in grades 3-6.
5. Melby Toys Unicorn Sparkle Sums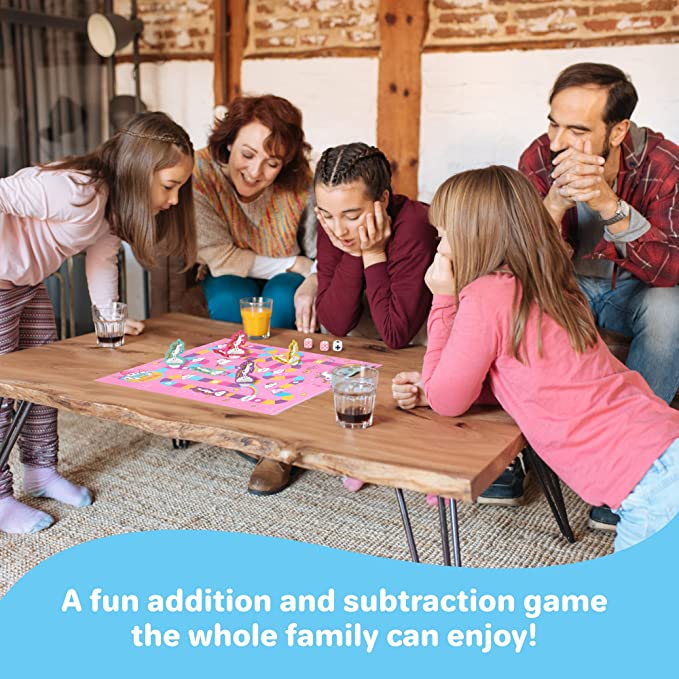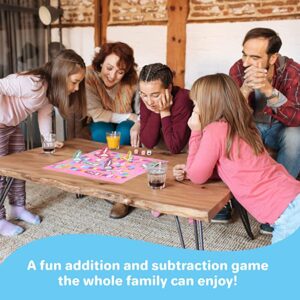 This is an adorable game that your child will absolutely love. Unicorn Sparkle Sums is an explosion of pink, sparkles, hearts, and rainbows. Otherwise, it resembles a classic board game where you have a piece that you move along until you reach the finish line. To move forward, a player must roll the dice and solve the mathematical equation that they get. What's even better is that this game was created by a small family business.
4. Win SPORTS Shut The Box Dice Game, Wooden Board Table Math Game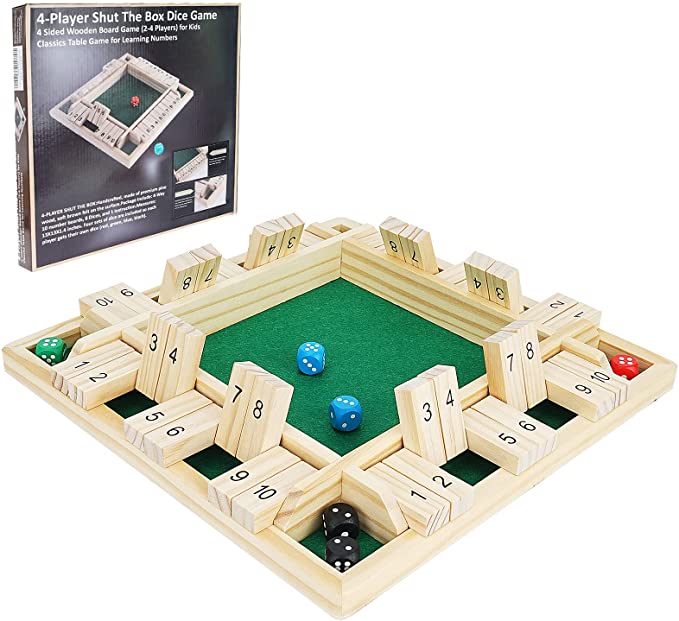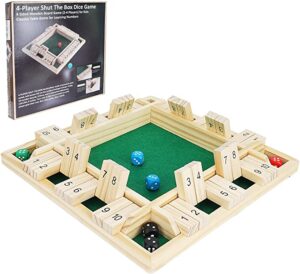 This handcrafted wooden board game is a great way to develop and progress your child's basic math skills, and it's a fun game for adults to play as well. Each player gets to roll the dice and then use their tiles to match the number they rolled. You can pull this game out anywhere including at home, restaurants, outside at the park, and more!
3. MOBI KIDS NUMERICAL TILE GAME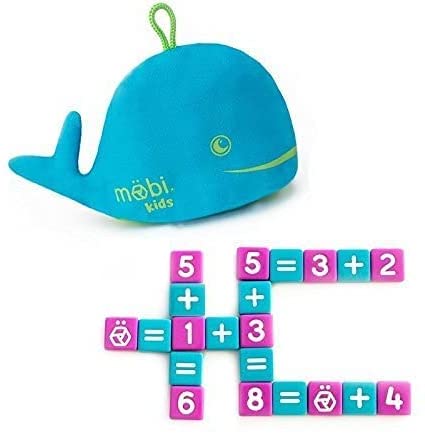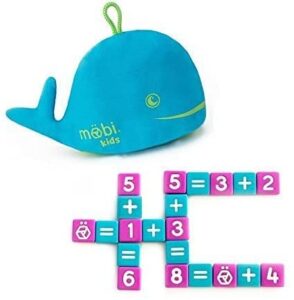 This game is so adorable that it's worth buying anyway. Colored tiles all fit nicely into a cute whale that will fit nicely in a purse or bag to take with you on the go. The goal is to connect the tiles together to form mathematical equations and come up with all different sorts of options to solve. It's recommended for children ages 4 years old and up.
2. Everyday Educate Matchematics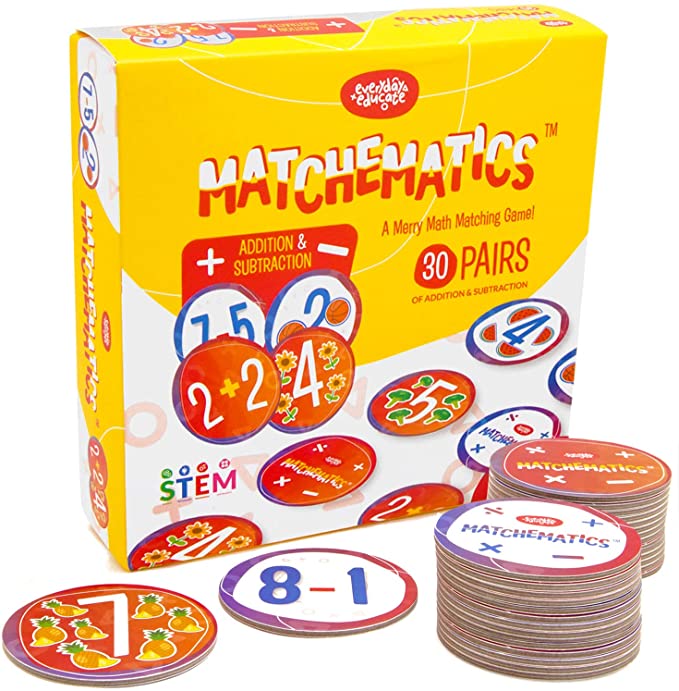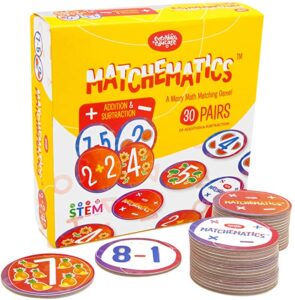 This game will definitely help improve cognitive and fine motor skills as well as help your child have fun while learning mathematics. The goal is to match the equation with the answer and there are 30 pairs of matches for your child to have lots of options. It's recommended for children ages 3 years old and up.
1. Nueplay 63PCS Dinosaur Balance Math Game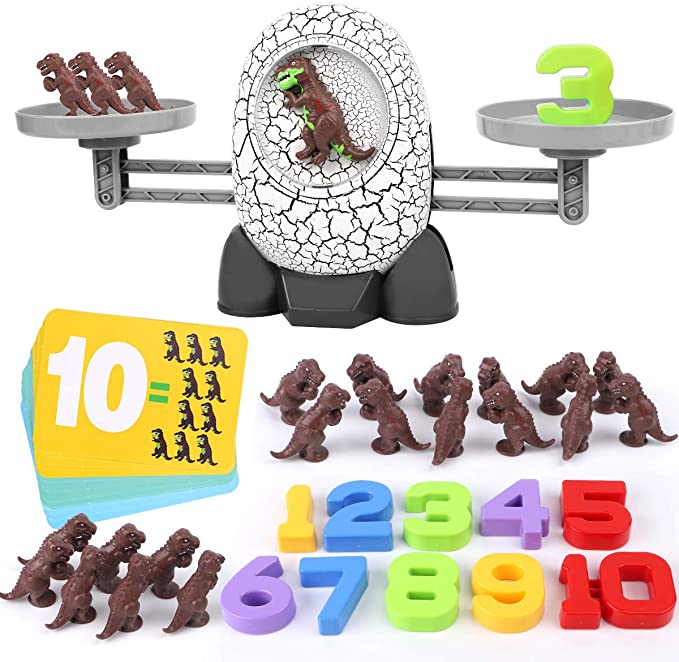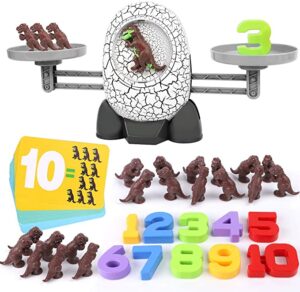 Like the monkey game above, this is a dinosaur balancing math game where your kiddo will have to determine the right amount of weight on each scale. There are also different levels of difficulty for advanced play. Your child will have hours of fun and could even use the dinosaur pieces for separate play as well.