Cool Reading Games for Kids
Children are naturally curious learners. They are so open to new concepts, but with too much pressure, they run a high risk of burnout. By participating in reading games, they are engaging in fun learning activities that reduce stress and increase their chances of success. No matter where your child is on their journey, these reading games will strengthen their skills. Whether your child just struggles with reading, has dyslexia, or ADHD, or just doesn't love to read, all of these games can help!
Reading Games For Kids for Letter Recognition
1) Dry Rice Sensory Play
Tactile activities are a great way to engage young children. Using dry rice to teach letter recognition will hold your little one's attention and offer a way to fill time when boredom strikes. For this activity you'll need:
A tray or cookie sheet
2 lb bag of dry rice
Printed examples of the alphabet
The Set-up: Fill the tray with a thin layer of rice, making sure to completely cover the bottom. Print each letter of the alphabet on a separate card in a large, easily recognizable font.
How The Game Works: Using one letter at a time, display a card above the tray and have your child say the letter with you. Then, using his or her index finger, trace the letter in the rice. This game not only teaches preschoolers to recognize letters, but also how to write them using a fun, sensory activity!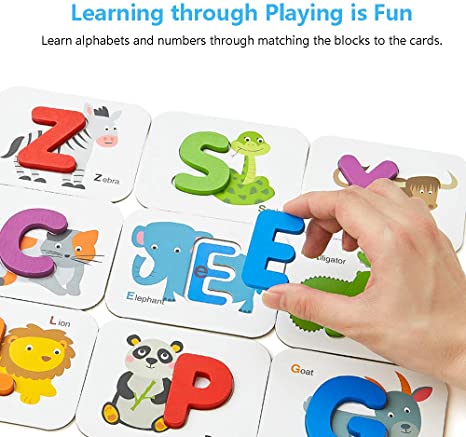 Flash cards have proven to be an effective way of teaching children for decades. But Likee's Alphabet Matching Cards have taken them a step further by creating a fun letter recognition game. Children recognize the adorable images on the card face and pair them phonetically with wooden letters. As a bonus, this game also includes number recognition cards 1 thru 10. Each game comes with:
26 alphabet cards
10 number cards
36 wooden blocks
1 carrying case for organization
How The Game Works: Each card is printed with an easily recognizable image that is associated with the featured letter. The child matches the wooden letter by fitting it into the cutout as he or she enhances letter recognition skills. This can be used as a self-guided or family activity.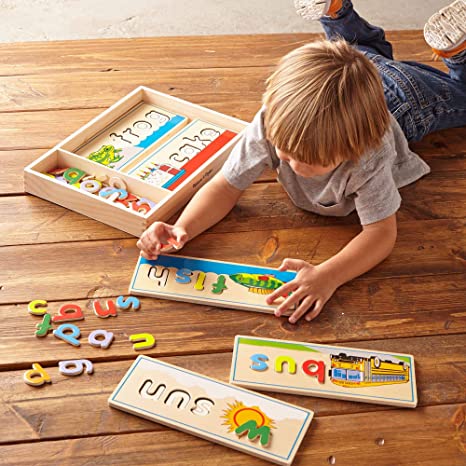 This puzzle set helps with both letter recognition as well as spelling! You'll get many years of use out of them as there are many uses and games with the various parts. Great for travel, restaurants, and a daytime activity with your child.
Reading Games For Sight Words
4) Sight Word Egg Hunt
This game is incredibly simple, but provides endless fun for the whole family! The best part is that it can be modified as an indoor or outdoor activity. For this game you'll need:
Empty plastic Easter eggs
Strips of paper
The Setup: Write one sight word on each strip of paper and add them to the eggs. Hide the eggs in various places around the house or your lawn. Don't forget to keep track of how many you have hidden so you can complete the game.
How The Game Works: All players hunt for the eggs. When they are found, open them up and have your child read the sight words from each egg.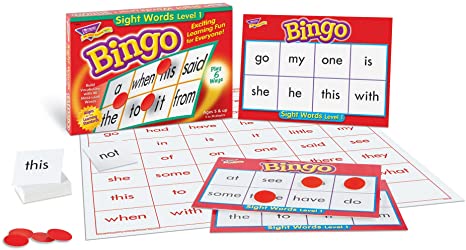 Trend Enterprises' Sight Words Bingo puts an educational twist on a time-honored classic. This is a great introduction to sight words as children build their reading skills. The game includes:
36 playing cards
Calling mat of sight words
Bingo chips
How The Game Works: Just like with traditional Bingo, you'll establish the pattern players are aiming to complete before the game begins. The caller (usually an adult or older sibling) randomly selects sight words from the calling mat for players to hunt on their playing cards. Once a player has found sight words in a specific pattern, they win!
Reading Games For Understanding Sentence Structure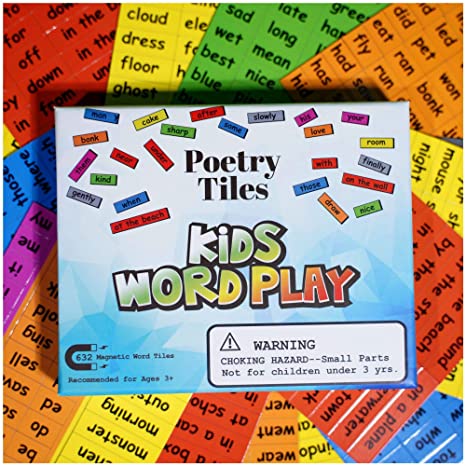 These bright, colorful magnetic tiles are a fun way for kids to learn sentence structure. Using color-coded parts of speech, children will see what makes up a strong sentence in an interactive way. This package includes:
632 magnetic tiles measuring .375" tall
Tiles are color coded to reflect parts of speech, including nouns, adverbs, prepositions, and more
How The Game Works: Arrange the tiles on any magnetic surface. Use the tiles to form sentences including as many parts of speech as possible, arranging them in the correct order. Children will understand what makes a good sentence in a fun and empowering way.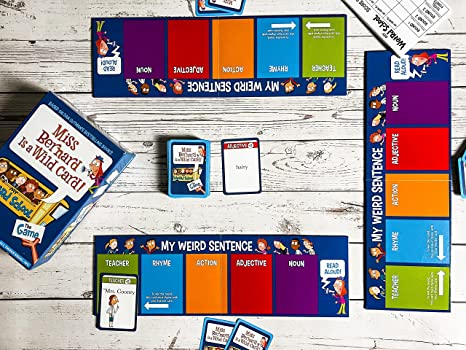 This goofy game will get the whole family laughing as your child learns to build sentences. As a bonus element, All Things Equal's "Miss Bernard Is a Wildcard" game introduces kids to the concept of rhyming. The game includes:
4 sentence boards
110 cards to build sentences
Score keeping card and pencil
How The Game Works: Players use their boards to build sentences. For each segment they add, (e.g. noun, adjective, or action) players earn points. At the end of the game, points are added together, and the player with the most points wins!
Reading Games For Learning To Read Stories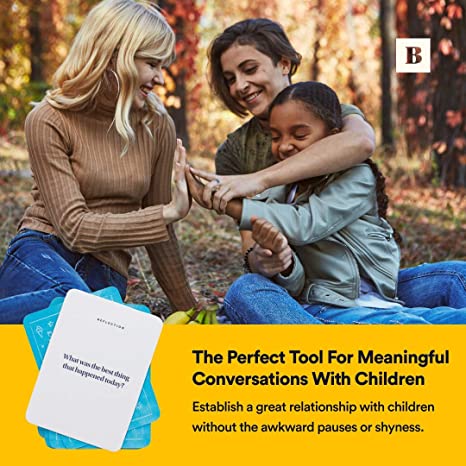 As children put all the pieces of reading together, they also start building their comprehension skills. By encouraging them to talk about what they've read, you will enhance both memory and retention. You can also set up a conversation activity yourself with:
Popsicle sticks
Glue
Paper and pen
The Setup: Write a series of simple, open-ended questions you can ask your child about the text. Be sure to label any that are specific to fiction or nonfiction.
How The Game Works: Ask your child to pull a popsicle stick, then read and answer the question. Family members can also engage in thought-provoking conversation to increase comprehension.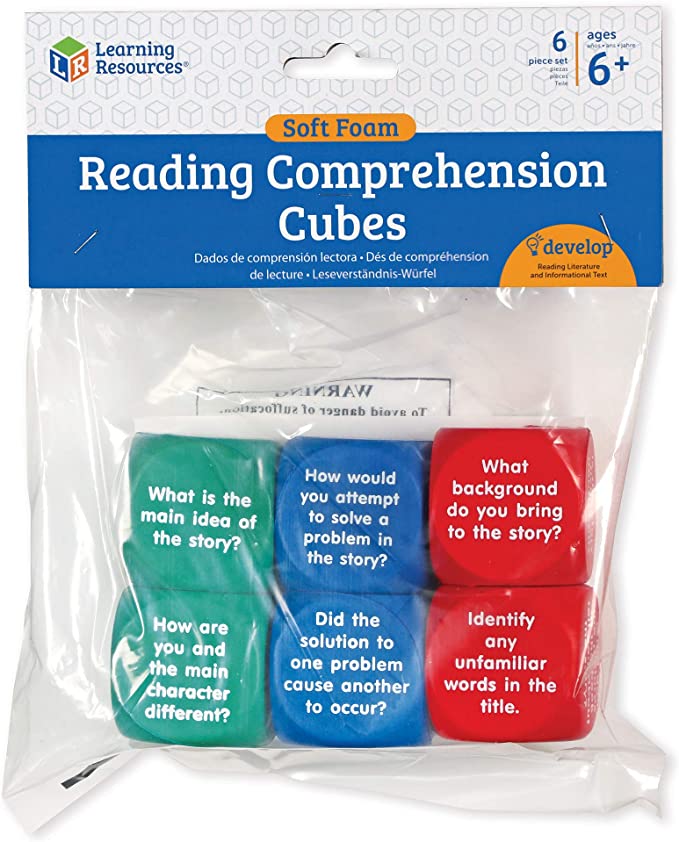 These foam cubes make reading comprehension fun for even the most reluctant reader. They are designed to guide you through the reading process by asking simple, captivating questions. This set includes:
6 foam cubes in three different colors
An activity guide
How The Game Works: Roll the cubes to reveal questions to ask your child throughout the reading process. There are questions to ask before, during, and after reading. By encouraging your child to reflect on what he or she read, they will build stronger reading skills.
Teaching your little one to read through games can be fun for the whole family. By involving everyone in your child's education, you will not only enhance their skills but create priceless bonding moments everyone will cherish.