Occupational Therapy Toys for Kids of All Ages
Toys can play an important role in occupational therapy, as they can help individuals develop and improve their fine and gross motor skills, hand-eye coordination, visual perceptual skills, and sensory processing abilities. Occupational therapists often use toys as a tool to engage their clients in therapeutic activities that target specific areas of development. For example, toys that require manipulation, such as building blocks or puzzles, can help individuals develop their fine motor skills, while toys that involve throwing and catching, such as balls or bean bags, can help improve gross motor skills. Toys with different textures and shapes can also be used to target sensory processing difficulties, while toys that involve sequencing or matching can improve visual perceptual skills. Additionally, occupational therapists may use play-based activities with toys to improve social skills, communication, and emotional regulation. Overall, toys can be an effective and enjoyable tool in occupational therapy, helping individuals reach their developmental goals and improve their overall quality of life.
10.) Hand2Mind Sensory Fidget Tubes, Anxiety Relief Toy, Occupational Therapy Toys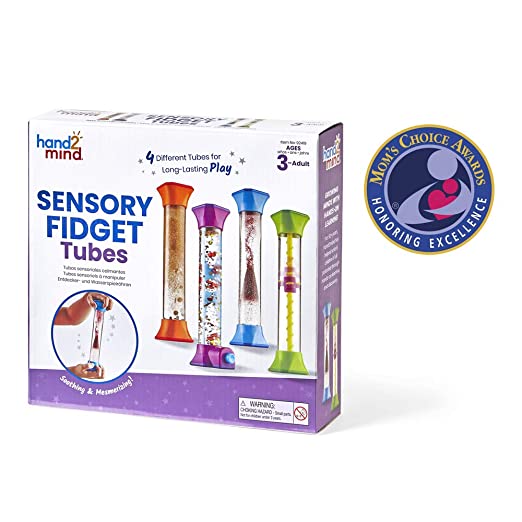 These sensory fidget tubes include 1 glitter tube, 1 fidget tube, 1 reverse hourglass, and 1 gravity spinner – meaning you can switch up which ones to play with. These sensory toys help provide a calming environment, and if kids are feeling stressed, then they can focus on these toys to focus and regulate their feelings. Sensory play is a wonderful alternative to screens, and healthier for their eyes and minds too. The colorful, unique shapes and designs will help keep your kiddo's attention.
9.) BMTOYS Lacing Beads for Kids – 70pcs Threading Beads Occupational Therapy Toys, Fine Motor Skills Developmental Activities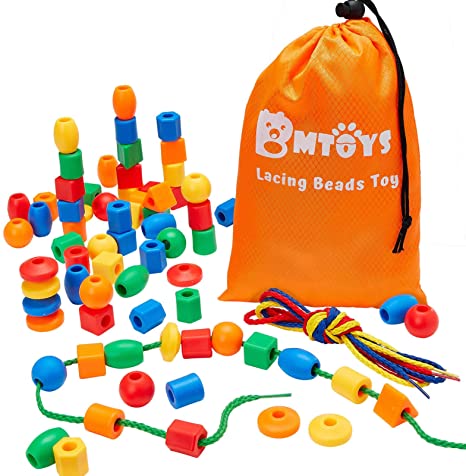 BMTOYS Lacing Beads are very colorful beads that can be threaded to make necklaces, shapes, bracelets, and more. They are great for developing and improving fine motor skills, helps with color recognition and counting, and are extremely useful during therapy. These large beads are BPA-free, non-toxic, lead-free, and contain no phthalates.
8.) Stack It Peg Game with Board Occupational Therapy for Autism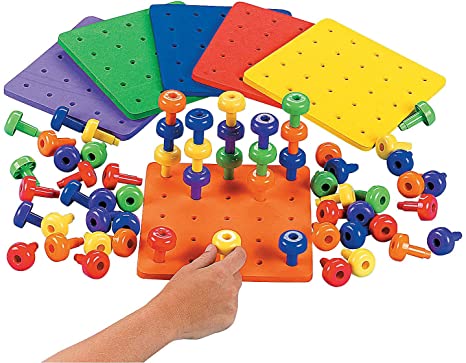 Stack It Peg Game is a game with 4 boards and 30 colorful pegs for hours of endless fun. The 2-inch pegs can be stacked on top of one another, or simply next to each other, and they can be used in all kinds of different settings including school, home, therapy, and more. Not only do they help with hand-eye coordination, but also aid in reducing stress and providing a calming environment.
7.) Play Putty Therapy Putty for Kids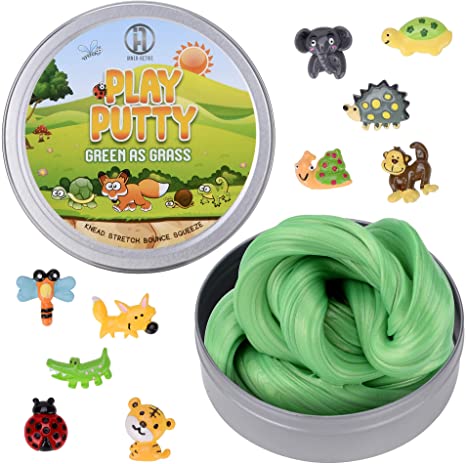 This green, non-toxic Play Putty comes with adorable, hand-painted animals – tiger, elephant, hedgehog, turtle, alligator, ladybug, snail, fox, dragonfly, and monkey. This putty was actually created by an occupational therapist and can be used in therapy to strengthen fingers and hands, as well as help with coordination and fine motor skills. Kids will also enjoy searching through the putty to find the little creatures. Not only is this great for therapy, but it makes a wonderful gift too.
6.) Sensory Buckle Pillow Fine Motor Development Toy Activity – Plus Threading Counting and Zipper Skills All in One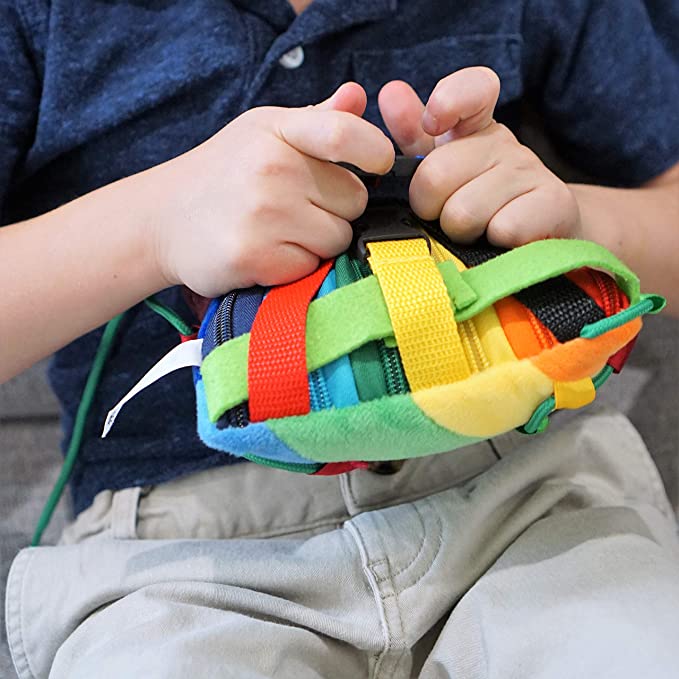 This is a medium-sized buckle pillow toy that includes many sensory items to keep your kiddos busy. Some of the different things you can do with this toy are buckling, fastening, zipping, latching, counting, and buttoning. This toy is recommended for children ages 3-7, but anyone can play with it. It is designed to help with fine motor skills, aid with fidgeting, is used in occupational and physical therapy, and can be great for individuals with dementia too.
5.) LMC Products Wooden Lacing Beads 125 Pieces, Fine Motor Skills Toys, Occupational Therapy Toys for Toddlers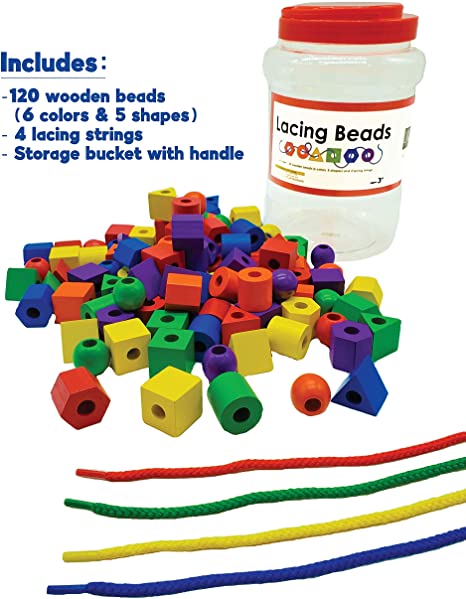 Lacing Beads are multi-colored, wooden beads that come in 5 different shapes – triangles, hexagons, squares, cylinders, and circles. Recommended for kids ages 3-7 years old, these beads help children learn shapes, colors, counting, sorting, patterns, and more. They are great options to use during therapy and provide hours of endless fun.
Included in this game set are 120 wooden beads of different shapes, 4 brightly colored laces, and a plastic container with a handle for storage. These wooden lacing beads will definitely keep your kiddo busy.
4.) Melissa & Doug Pattern Blocks and Boards – Classic Toy With 120 Solid Wood Shapes and 5 Double-Sided Panels, Multi-Colored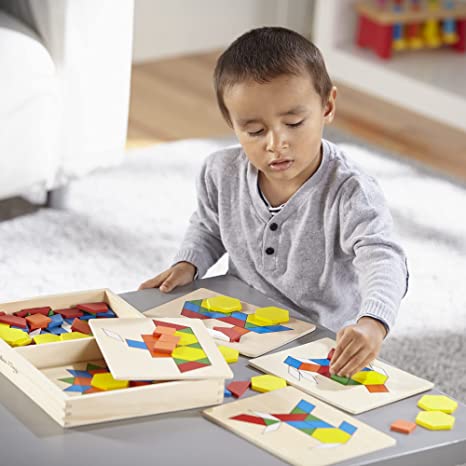 Melissa & Doug Pattern Blocks and Boards is an educational set of 120 wooden blocks in a variety of bright colors and shapes and double-sided pattern boards. Kids can match the shapes to patterns like a butterfly, boat, bunny, flower, and more. The shapes are colorful and beautiful, so you can use these boards as a staple piece in your child's playroom if you want. There are other options as well other than the classic toy like a shape sorting and lacing beads set. The classic toy set is recommended for children ages 3 years old and up.
3.) Play Brainy Shape and Color Matching Eggs – Educational Montessori STEM Toy for Toddlers and Preschoolers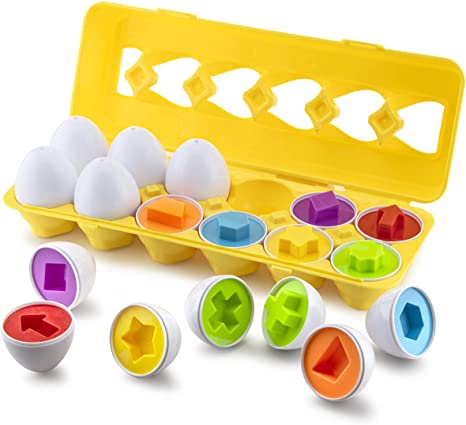 Play Brainy Shape and Color Matching Eggs are a set of 12 colorful shape eggs. These eggs are great for learning shape and color recognition, developing fine motor and sorting skills, and providing countless hours of fun playtime. They also come in an egg carton container for easy and creative storage. Just make sure you tell your kiddos that the eggs in the refrigerator are off-limits for playtime!
2.) Sliding Zoom Ball Toy and Fitness Game for Kids with Long, Nylon Rope and Heavy-Duty Plastic Grip Handles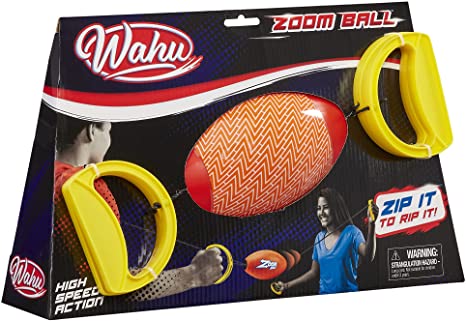 The Sliding Zoom Ball Toy is an amazing tool for occupational and physical therapy. It includes an 84-inch-long rope, slip-resistant handles, and a bright green plastic ball. It can be used as a fun physical activity, but it can also help with strengthening fingers, hands, and arms. It comes with a red drawstring backpack and is completely portable so you can take it to play at the beach, in classrooms, in your house, at the park, or pretty much anywhere else. If you are using this for your kiddo's therapy, they will have so much fun that they will likely not realize they are exercising or stretching.
1.) Busy Board Dress Learning Toys for Fine Motor Skills & Learn to Dress, Basic Life Skills Sensory Board, Learn to Zip, Snap, Tie Shoe Laces and Buckle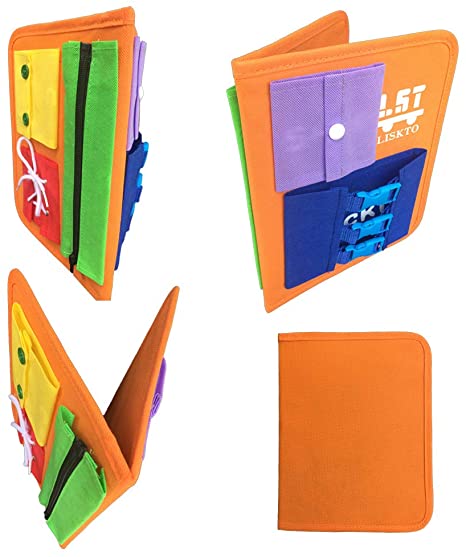 This toy, similar to the Sensory Buckle Pillow, is a lot of sensory tools built into one. It includes a red section where you can tie a shoelace, a yellow section you can button, a green section you can zip, a blue section you can buckle, and a purple one you can snap open and shut. This Busy Board Dress Learning Toy is wonderful for teaching hand-eye coordination, fine motor skills, and provides helpful education. The whole toy folds up into an orange, pocket-sized wallet shape, so it is easy for you to take with you on the go.