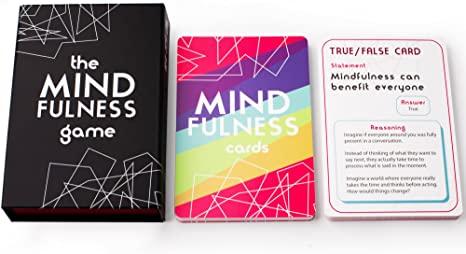 The Mindfulness Game is a wonderful game for you and your children. It is a colorful, inspirational card game that includes different activities to help you practice a calm, peaceful, and grounded mindset. This game also comes with an instruction booklet with additional activities included in it. One example of a card in this game is the true/false card that states the following:
Statement: Mindfulness can benefit everyone
Answer: True
Reasoning: Imagine if everyone around you was fully present in a conversation. Instead of thinking of what they want to say next, they actually take time to process what is said in the moment. Imagine a world where everyone really takes the time and thinks before acting. How would things change?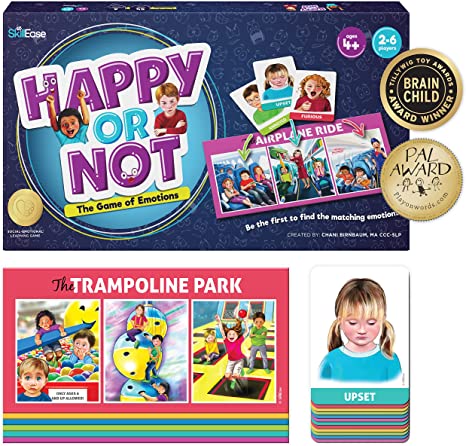 Happy or Not is an amazing game for developing and improving social skills, and more specifically, it is helpful for children diagnosed with Autism. It engages and helps kids recognize emotions and how to regulate them. This game includes 6 boards, 54 cards, and a detailed booklet that was created by a mom who is also a speech therapist.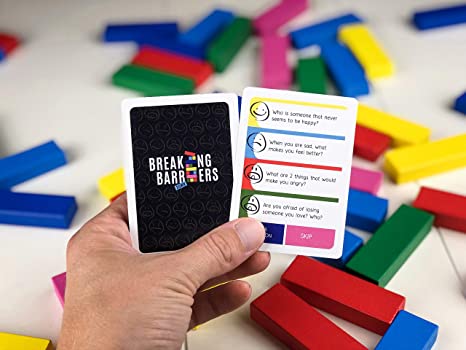 Breaking Barriers Down is a Cognitive Behavioral Therapy (CBT) based game that includes over 200 questions regarding a variety of emotions and colorful building blocks that resemble Jenga. This game helps start conversations with people about their emotions – both positive and negative ones. It can be played at home, but it is also great to use during therapy, in a classroom, and in a wide variety of other settings.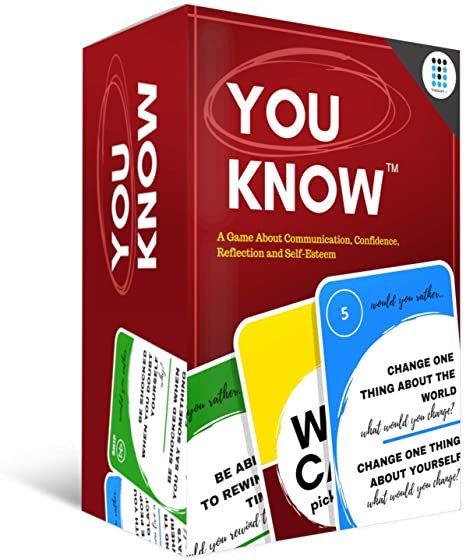 You Know is another Cognitive Behavioral Therapy (CBT) social skills game that features conversation-starter questions that encourage others to talk about their emotions. On the box, it says it is "a game about communication, confidence, reflection, and self-esteem." This game can be played by 2-6 players and is recommended for ages 7 years old and up. An example of a card in the deck is the following:
Would you rather…
Be able to rewind time – what would you rewind to?
Be able to know the future – what would you want to know?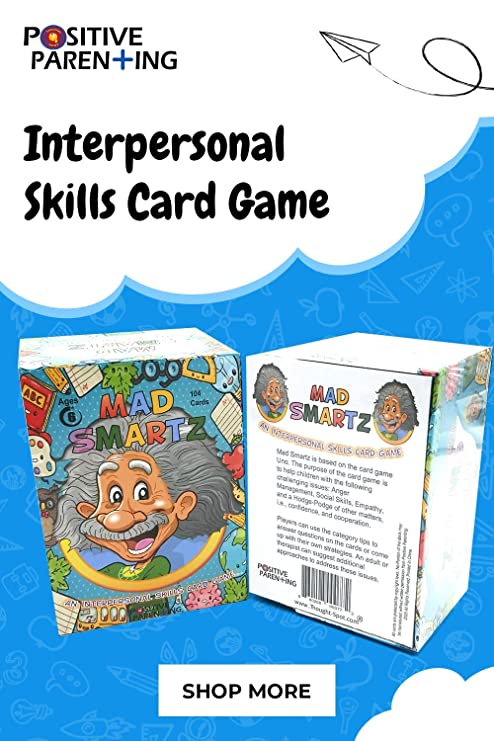 MAD SMARTZ is a card game that is based on Uno, and it is for both kids and adults to help develop emotions and social skills. In the description, it states the game helps "identify, process, and work through a variety of issues, including changes within the family, trauma, grief, anger, depression, social delays, anxiety, and fears."
Specifically, it is a great game to help children who have been diagnosed with ADHD or autism learn about emotions. MAD SMARTZ is a two or more player game recommended for ages 6 and up, but can be helpful for adults as well.
Don't Go Bananas is a wonderful card game for kids ages 6-12 years old. The specific emotions that this game helps children navigate and learn about are jealousy, anger, worry, sadness, and fear. You can play with anywhere from 2-4 players and each person takes their turn trying to build a pile of colored cards. A great aspect of this game is that you can also help other players build their piles. This teaches social skills, cooperation, sharing, kindness, and more.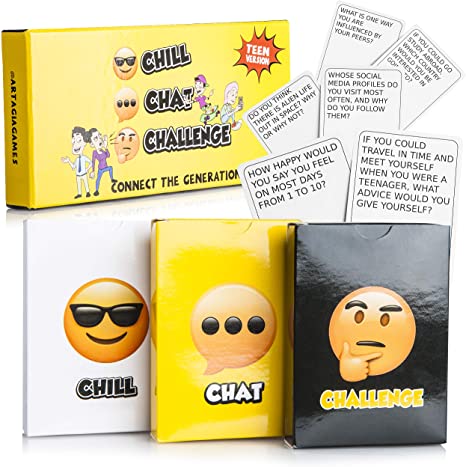 Chill, Chat, Challenge is an extremely fun and interesting game that can be played with family, friends, at dinners, on vacation, or anywhere else. It is 3 games in 1 since each stack of cards – chill deck, chat deck, and challenge deck – is different and includes a wide variety of topics and questions. These cards will definitely make for riveting conversation and stories and help improve social skills.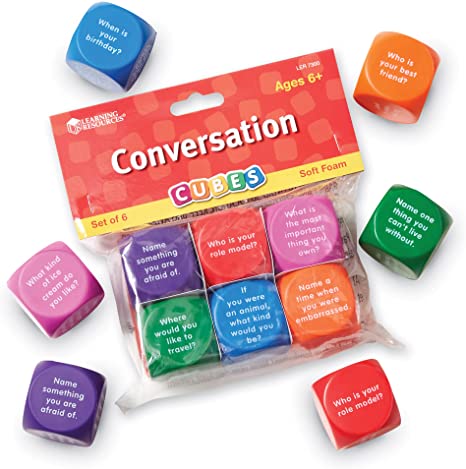 The Conversation Cubes game by Learning Resources is a great tool for learning about social skills and for practice in speech therapy. There are 6 different foam cubes that have a total of 36 questions, and it comes with an activity guide as well. Some examples of these questions include the following:
Where would you like to travel?
What is the most important thing you own?
Who is your role model?
What do you like to do in cold weather?
If you were an animal, what kind would you be?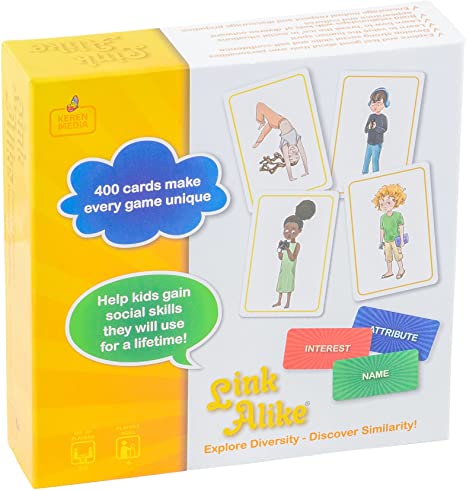 Link Alike is a really fun card game that includes a total of 400 cards! The description of this exciting game states that it, "strengthens coping skills, ability to think creatively, & equips children with a social tool kit emphasizing the importance of listening & open-mindedness." Because this game has so many cards, there are countless ways to play it.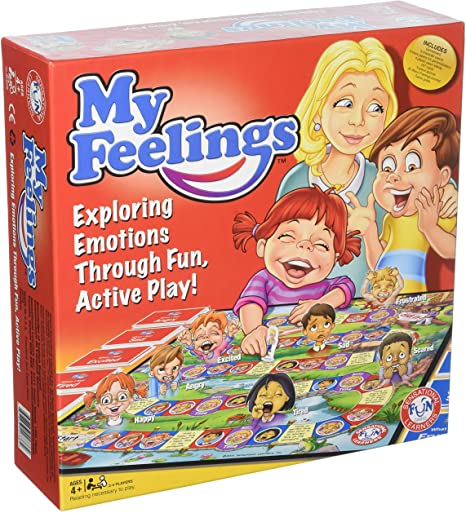 My Feelings is a board game that has 280 different scenarios to choose from, 260 strategies to help children learn to manage their emotions, and an illustrated booklet that details seven emotions and feelings. This game helps kids not only learn more about emotions but also how to respond appropriately in different situations. The following is an example of one of the cards in this game:
Draw a card and give an answer
Card drawn: What makes me angry
When someone eats part of my food
When someone tricks me
(Give my own answer)