Science Games for Kids that You (and they) Will Love
When you buy science games for your kids, it's great if they're educational games, crafts, or kits as well. It can be hard to find ones that will keep your child's interest for more than a few minutes. Games can be a fun and effective tool for learning science, as they offer engaging and interactive ways to explore and understand scientific concepts. Games that involve problem-solving, experimentation, and exploration, such as virtual simulations or puzzle games, can help kids develop critical thinking skills and scientific reasoning. Additionally, games that incorporate elements of competition, collaboration, or creativity can foster a sense of excitement and curiosity about science, encouraging kids to further explore and learn about the subject.
Included in this article is a list of science games for kids that you can buy online that they will love playing with (while they're learning).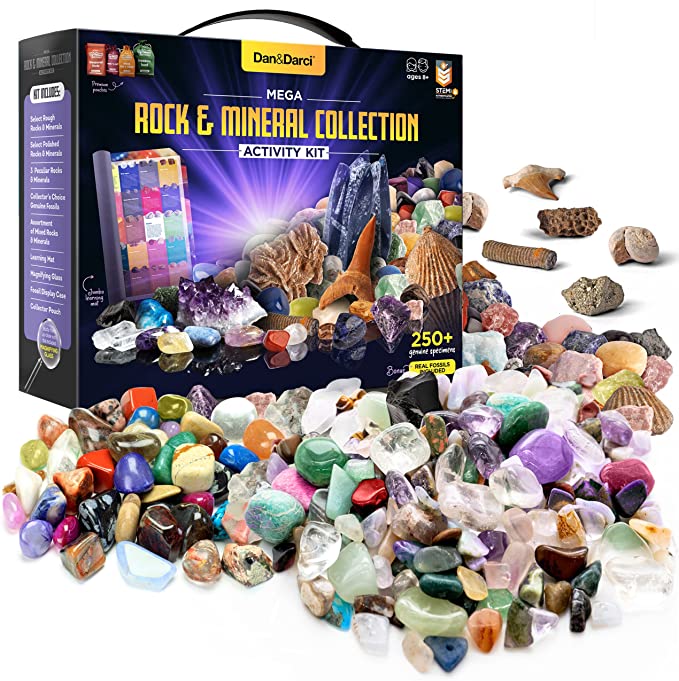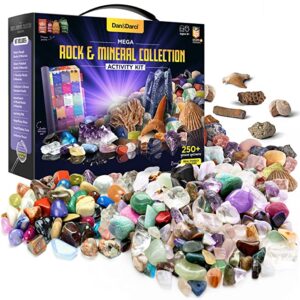 This rock collection includes over 250 gemstones, crystals, fossils, and minerals along with a learning mat for endless fun. It also includes information about all the stones so your kids can learn even more.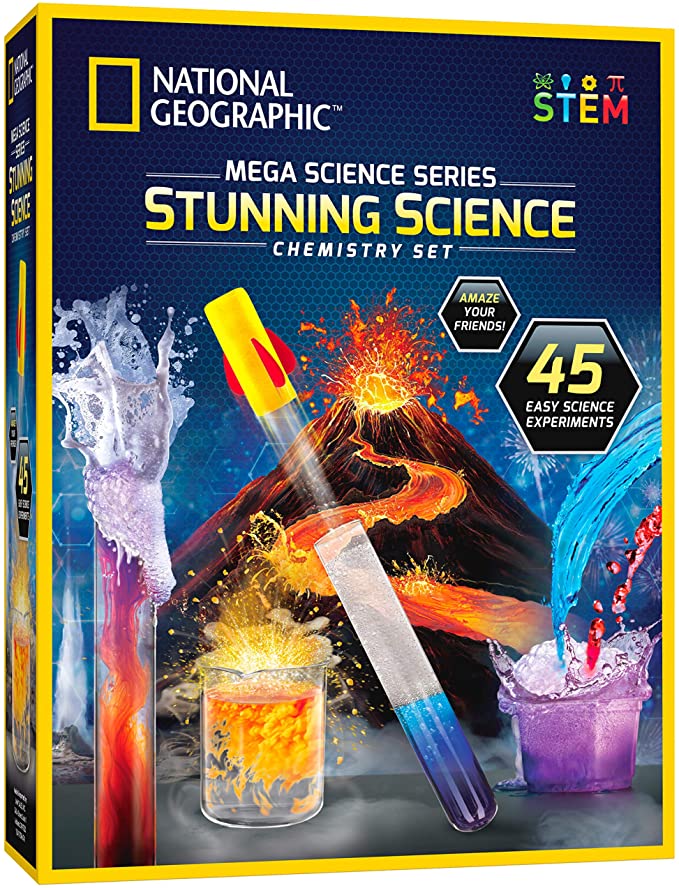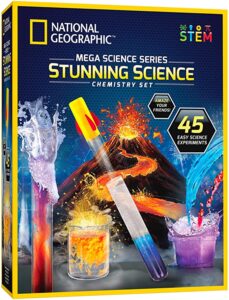 There are over 45 activities your child can complete including building an underwater volcano, blowing up a balloon with gas, launching a rocket, erupting a geyser, and more! The experiments are easy enough that your kids can sit and follow the instructions on their own, or you can do it with them. This is a great introduction to high-quality, kid-friendly chemistry.
This Kid's Beginner Microscope is the real deal and the perfect gift for your child who's curious about science. It's an adjustable battery-operated microscope that comes with plastic slides including cells, insects, bacteria, brine shrimp, and more. Your child can carry it around in a neatly packed case to show all their friends!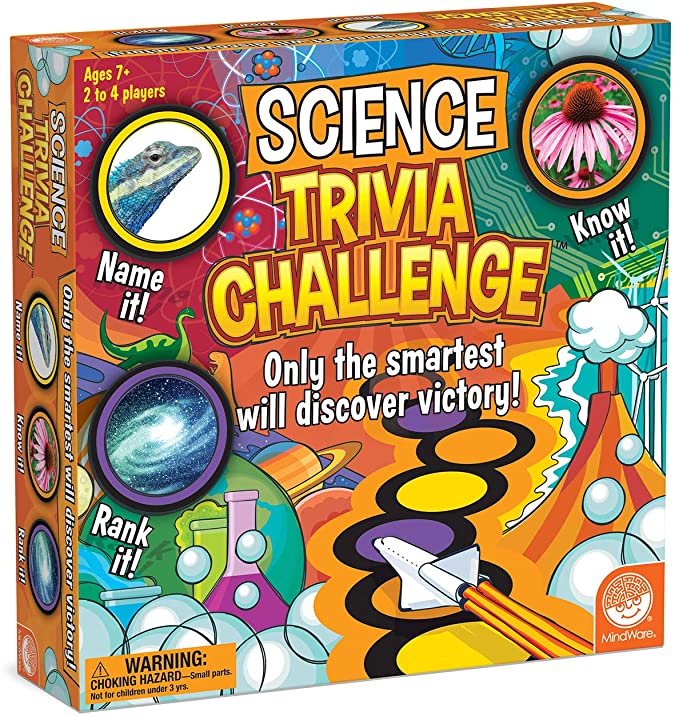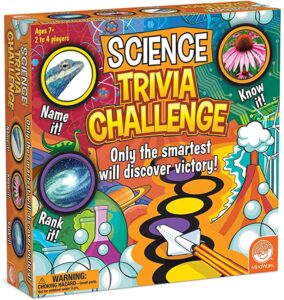 Everyone loves trivia and this Science Trivia Challenge game is very fun and challenging (in the best way). Included is a board game where you advance towards the end based on how many answers you get right. This game is for everyone ages 8 and up, but you can choose the level of difficulty when playing.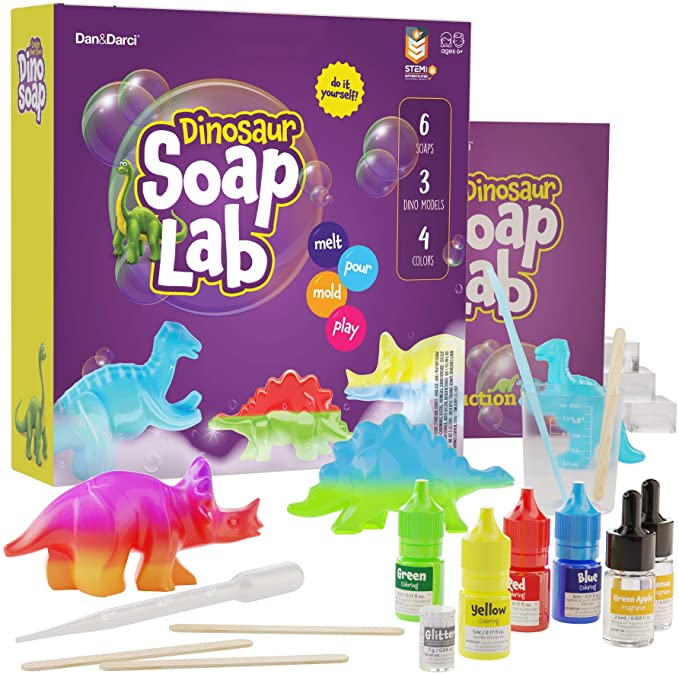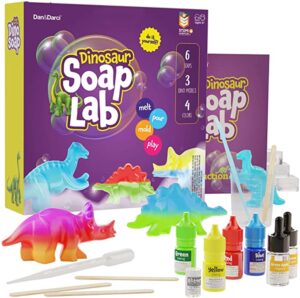 Not only is this a soap-making kit, but it's a dinosaur soap-making kit. Your kiddos, of any age, can make a multi-colored Styracosaurus, T-rex, or Stegosaurus and you can use the green apple or lemon-scented soaps anywhere around the house. It's a fun science project that won't get too messy.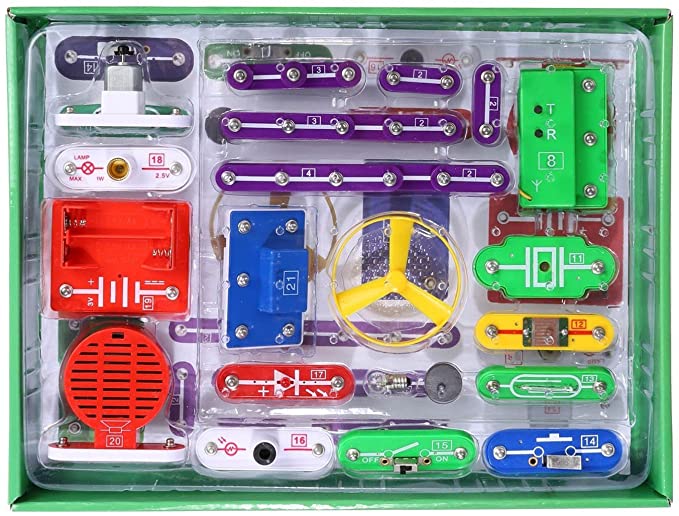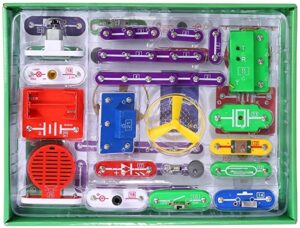 If you want a more intricate game for your kids, then this is the one for you. It's an electronic circuit kit with over 31 parts including building blocks, burglar alarm, morse code, FM radio, and more. Rest assured, your kids will have endless hours of fun figuring out and restructuring this circuit board.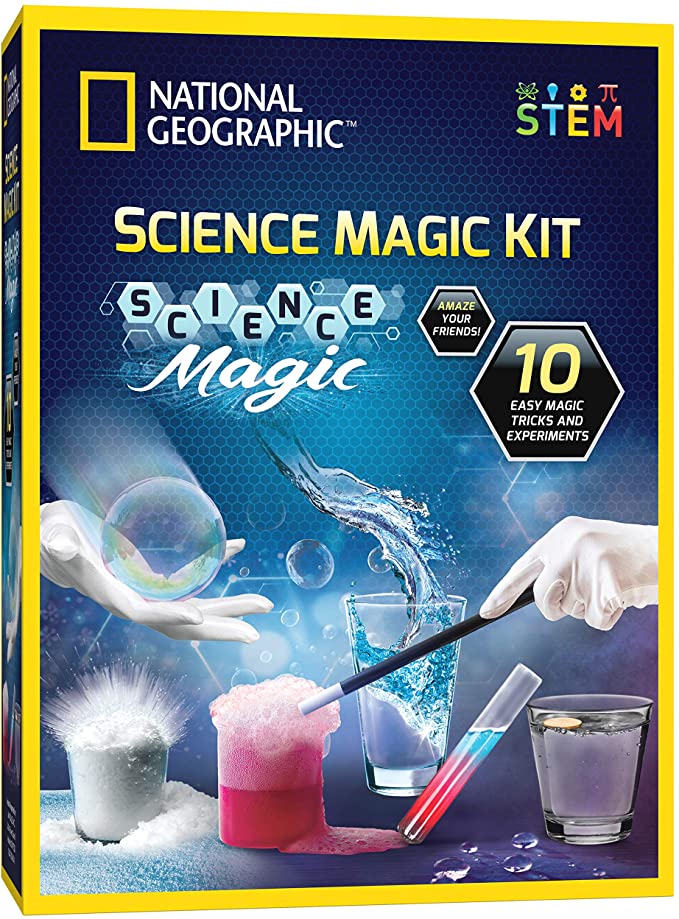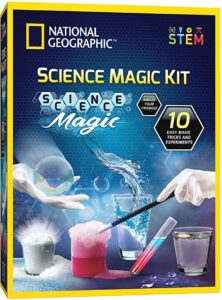 Is there anything better for kiddos than a magic show created from their own science kit? There are up to 10 easy magic tricks in this kit, and it includes white gloves and a magic wand for the full effect. You can be an audience member for your child to make snow appear, make a coin float, change the color of water, and more! Your involvement can be minimal since this kit also comes with an easy-to-follow instruction guide.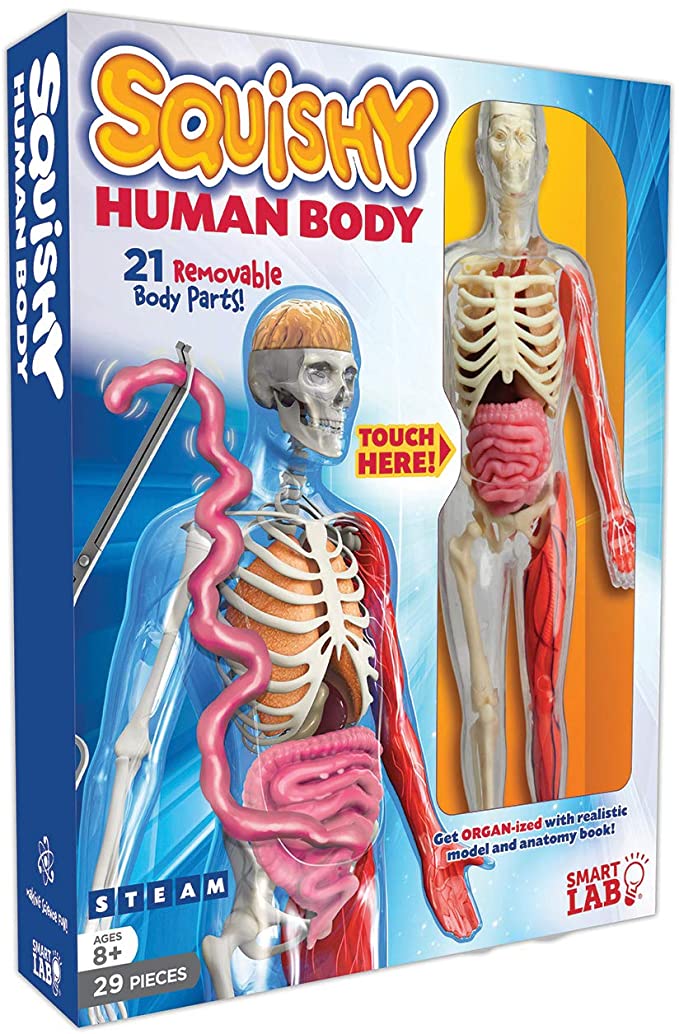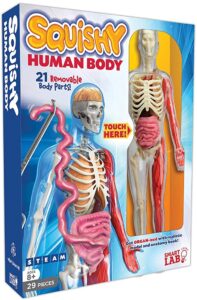 Not only is this an amazing game, but it's also very educational. This kit comes with a skeleton with 21 removable organs, bones, and muscles. It comes with an anatomy book so they can identify what each component is and where it goes.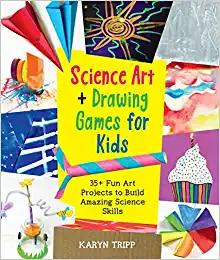 This is a wonderful game for your creative kiddos. They can make light-up greeting cards, paintings, terrariums, rainbow bath bombs, origami, and so much more. Each craft has step-by-step instructions so your child can have hours of endless fun.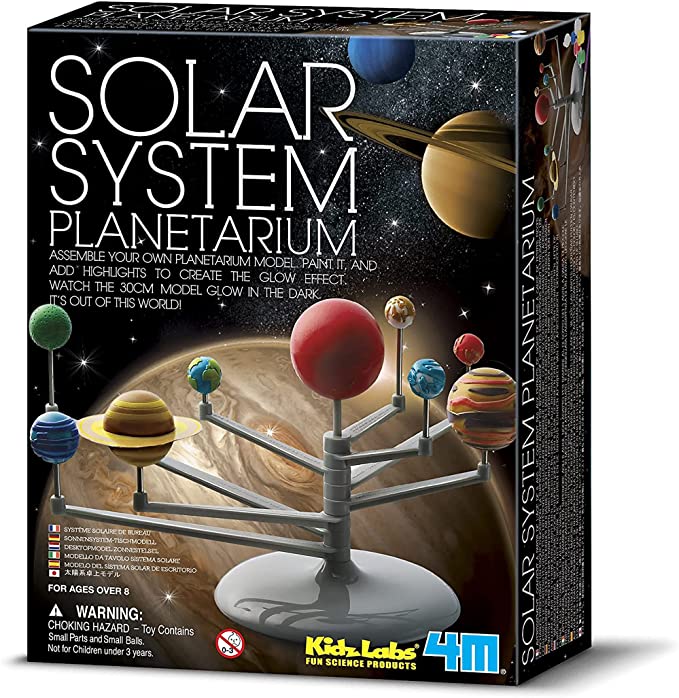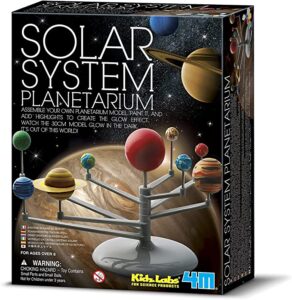 While this may look like a simple solar system display, it actually comes disassembled and colorless. Your child will have so much fun putting the solar system together and learning all about it by painting and reading about the planets. It's a great game for kids who like to be interactive, creative, and hands-on with their crafts.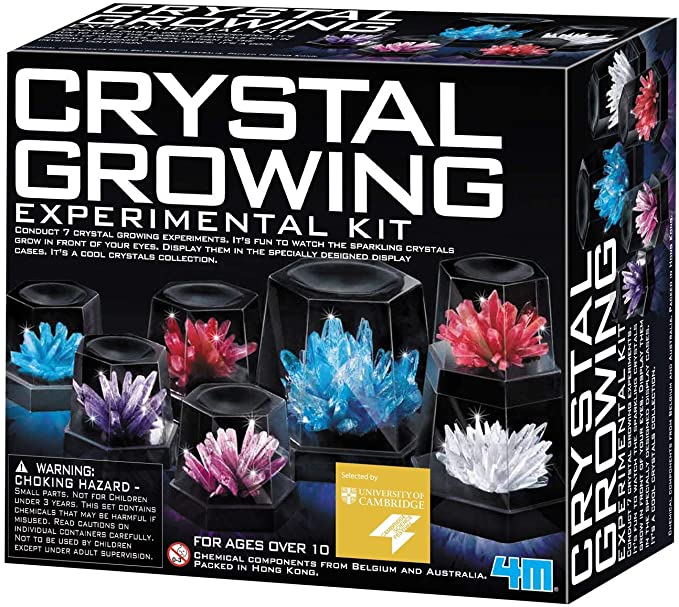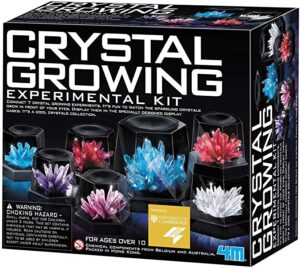 If your child loves geology or loves to find rocks, then this would be a great addition to their collection. This kit includes seven stunning and colorful crystals to grow and put in the display cases included.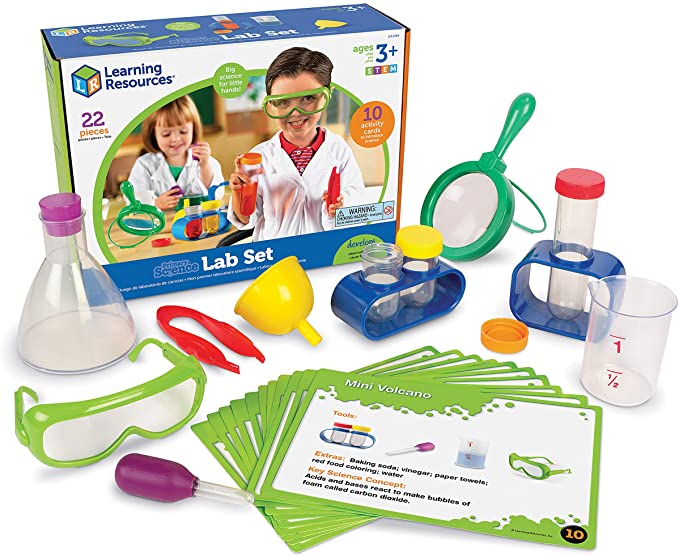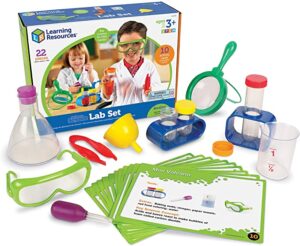 Why not buy your child their very own science lab? This kit is for ages 3 and up, and it includes safety glasses, a beaker, magnifying glass, an eyedropper, flask, test tubes, and lots more science pieces. Your little one will be a scientist in no time!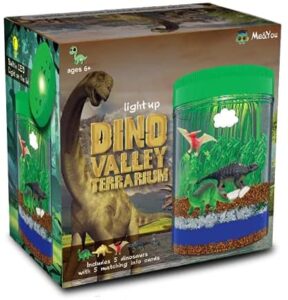 Guaranteed, your child is going to love this amazing, light-up dinosaur terrarium. They will get to build it any way they want with the included five dinosaur figures, a jar, white river rock, sand, soil, and more items to make the perfect terrarium. As an added bonus, a poster comes with it.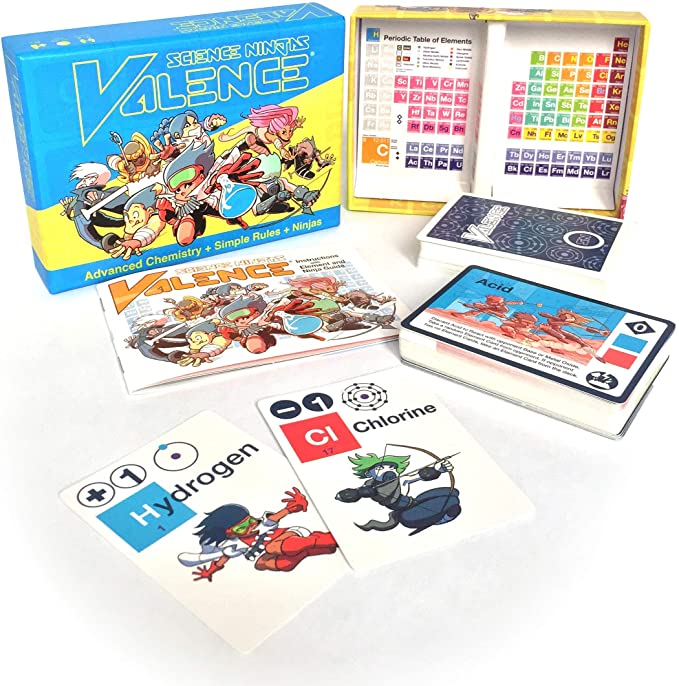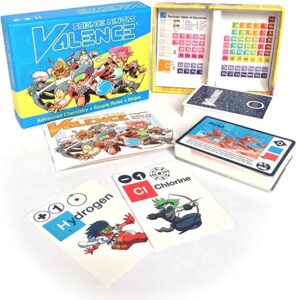 Card games are a fun way to learn and be competitive at the same time. Using the cards, you'll be able to help your kids learn about chemical reactions, molecules, acids and bases, and more. Now you and the kids can have a fun time!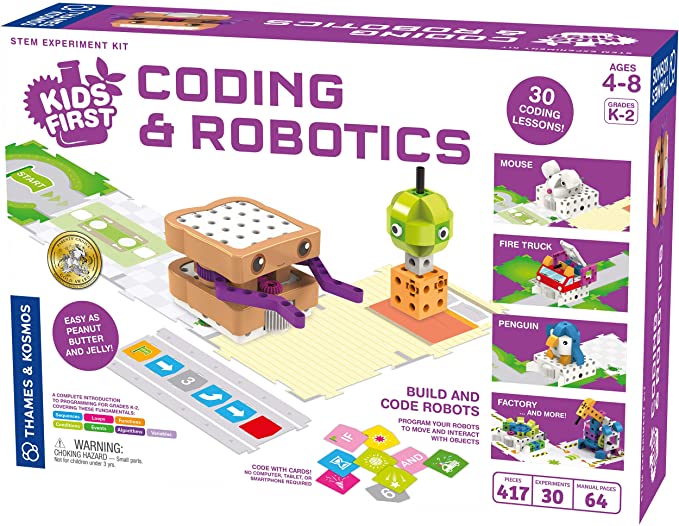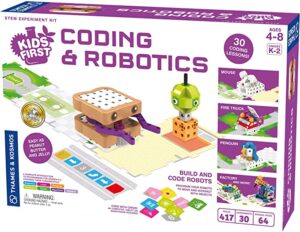 Hands down, this is such a fun game that will keep your kiddos entertained for a long time. They can learn about programming and coding with very cute robots. After following the instructions, they'll be able to do things like moving a mouse through a maze to find cheese and making a goal with a soccer ball.